evo is the world's leading sports, performance and premium car magazine brand.
evo is a global automotive performance and luxury media brand produced by the world's finest writers and most talented automotive photographers in the world.
Placing its audience behind the wheel of the world's greatest drivers cars, evo takes its readers on the most remarkable journeys on road track driving. Whether it's a first drive of the latest supercar, a reflective drive of an evo icon or a track test of a Le Mans winning race car evo puts its audience at the heart of the action across its print, digital and film platforms. 
Established in the United Kingdom in 1998 evo has grown to become a truly international brand, with 16 licenced editions published around the world each month and reaching over two-million digital users.
For all editorial enquiries please contact: eds@evo.co.uk For all magazine subscription enquiries contact: customercare@subscribe.evo.co.uk
----------------------------------------------------------------------------
Evo is published by Autovia Ltd and/or members of its group are the owners or the licensees of all intellectual property rights in this website, and in the material published on it.
Registered office: 31-32 Alfred Place, London, WC1E 7DP.
Registered in England with company no. 13018565 and VAT no. GB 364 557962.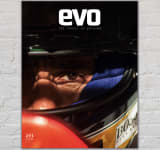 Subscribe to evo magazine
Try 3 issues for just £5 + receive our subscriber-exclusive Great Roads poster book FREE!