Alpine A110 Sport expected soon
A faster and more powerful version of the new Alpine A110 is in development, as part of an overall expansion of the brand's model range.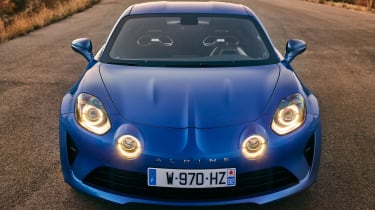 Alpine will build on the gathering critical acclaim for its new A110 sports car by introducing a more powerful, lighter derivative. An SUV is also expected to join the Alpine line-up in due course.
Known within the company as the 'Sport Chassis' model, the new variant will use a 300bhp version of the standard car's 1.8-litre engine, also set to appear in the forthcoming 'Trophy' specification Megane RS. The new engine will enable a 0-62mph in less than four seconds, though it's not clear whether the electronically limited 155mph top speed will increase as well.
> Click here for our review of the new Alpine A110
While already inherently light in standard form, Alpine's engineers reckon they can remove a further 50kg from the car by removing elements of the interior trim. Their target is a kerb weight of just 1,050kg.
> Click here for our review of the Porsche Cayman
The chassis and suspension will also be "between 15 and 20 per cent" stiffer on the Sport model, though the brakes will be unchanged due to the overall reduction in mass. The calibration of the dual clutch gearbox and steering, exhaust and ESC systems will also be revised to deliver an even keener response, particularly in Track mode. 
Prices and final specifications of the Alpine A110 Sport model haven't been set yet, but buyers can expect a 10 to 15 per cent premium over the regular model, which will probably cost around £50,000 when it goes on sale in the UK next year. Given the Sport is close to being signed off for production, it could appear as soon as summer 2018, and should prove to be a very tough competitor for Porsche's 'S' specification 718 Cayman.