Customer Data Platform (CDP) Buyer Guide
Your step-by-step guide to Customer Data Platforms
1. An introduction to Customer Data Platforms (CDPs)
What is a CDP or a Customer data platform and why would I need one?
We're so glad you asked! Let's start with an illustration that best demonstrates what a CDP actually is.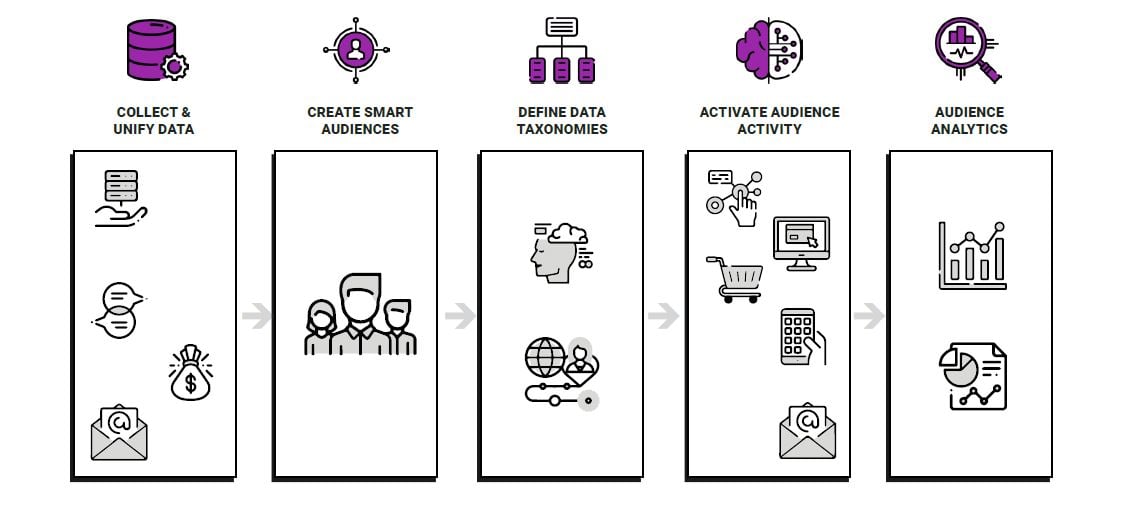 CDP key functions explained

A) Collect & unify data
To collect relevant data from your customers, via the various channels they use to interact within your organisation (e.g. email, website queries, online transactions etc). These data points are used to build a persistent, unified customer database accessible to other systems and provide a single customer view (SCV).

B) Create smart audiences
To create smarter segmentation based on a multitude of different data points such as online or in-store behaviour, purchase history, survey responses, channel activity, etc. Audience segments may include high and low propensity to buy, for example. Segmentation can be defined manually or by AI models.

C) Define data taxonomies
To define rule-based triggers on what activation should follow such as the relevant messages to send on what channel.

D) Activate audience activity
To activate the channel activity that drives customer engagement such as personalised email, recommended product to purchase online, content based on topic affinity, ad creatives that are most likely to resonate on a specific social channel or platform.

E) Audience analytics
To analyse audience engagement across all touch points to better understand channel, content and messaging performance to improve future communication activity.
CDPs make data available to other systems and based on their functionality and feature focus they may manage A-E directly or enable it through other systems.
Another way to think of A-E is:
Listening to your customer

Understanding them contextually

Defining what, when and how you should communicate

Communicating in a personalised and timely fashion


Continually analysing & improving how you engage your customer
The specific definition of a CDP by key industry sources include:
"A customer data platform is a marketing system that unifies a company's customer data from marketing and other channels to enable customer modelling and optimise the timing and targeting of messages and offers."

"A customer data platform is packaged software that creates a persistent, unified customer database that is accessible to other systems."

"A CDP centralises customer data from multiple sources and makes it available to systems of insight and engagement."

The flavours of a CDP
CDPs can be bundled or decoupled in a multitude of different ways including one or some of the following: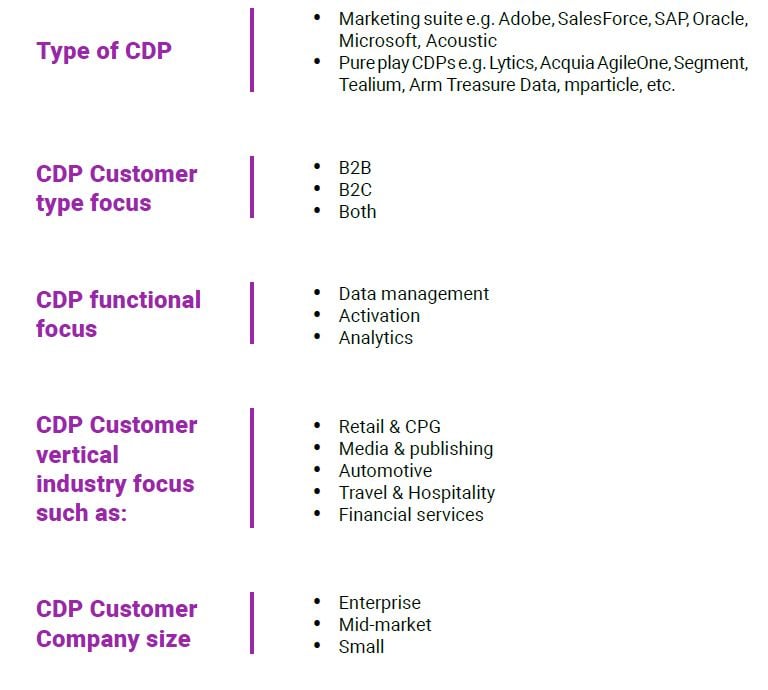 This is particularly important to note when short listing your CDP which we touch on in more detail in section 03.
CDPs, DMPs, CRMs. But what's the difference?
A CDP should not be confused with a Customer Relationship Management platform (CRM) or a Data Management Platform (DMP). Let's break them down:
CDP

– Customer Data Platform
CRM

– Customer Relationship Management platform
DMP

– Data Management Platform
A CRM is technology for managing a company's relationships and interactions with customers and potential customers by helping with contact management, sales management, and sales productivity. The big difference from a CDP is that a CRM manages relationships already in existence.
A DMP collects anonymous data from different sources, including from outside the business, and classifies and segments it for advertising platforms, so ads can be served to audience segments. A DMP mainly deals in third party data – that is data collected from external sources such as clicks and cookies, not PII (personally identifiable information) data. Privacy concerns circulate this type of data, with large platforms increasingly cracking down on the old cookie and privacy regulations coming into place globally.
A CDP, however, works with first party data – that is data collected from a business' actual real live customers. A CRM does this too, but not for marketing purposes, it is more for relational purposes.
When used properly, alongside data gathered with consent CDPs deal in real information on real people linked to an identifier, such as an email address. CDPs can combine online and offline data to create targeted marketing campaigns, as well as customise web content and personalise content and offers.
According to the Relevancy Group, 62% of companies leverage a CDP to enable personalisation in email, 55% for advertising, and 53% for real-time targeting.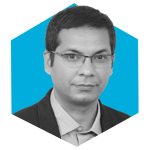 "A CRM manages customer relationships and interactions (or prospects) with the company, so a CRM wouldn't typically track an interaction of potential customers on a third-party site... As a result, even though you can use CRM for marketing and service use cases, the focus is really on sales use cases." - Apoorv Durga, MarTech Alliance Consultant
Martech Industry and Growth Advisor, Anand Thaker, agrees. He sees CDPs serving marketers largely in three critical ways: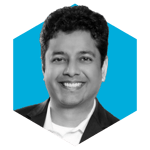 "First, centralising the operations of the customer helps an organisation become truly focussed around the customer. Brands that leverage CDPs are recognising the benefits of crossing silos within marketing and across other teams across the organisation and partners. Also, the experiences and intelligence give a more central and unified full resolution of the customer to make decisions.
Second, if growth is central for better customer experiences. CDPs and the supporting strategies will enable marketing leaders to evolve into growth executives beyond the department. This will be a transformational change of the profession.
Third, I see CDPs continually becoming more central to stacks eliminating duplication and costly and unnecessary redundancy of customer's data."
Where the CDP sits in the stack

We'll cut straight to the chase - a CDP sits in the middle of a Martech stack. This is because it can gather, segment and identify data from your CRM and your DMP, centralise it, while also pushing information out to these platforms as well. And while it might be run by marketing, it can benefit the entire business by cleaning up data and offering a single source of truth which can be used by any business line.
If you want to segment, personalise, and generally delve a little deeper into your customers to better serve them, then a CDP could be the answer. A CDP can also assist with decisioning and activation of marketing campaigns, thanks to the classification of segments pushing personalised messaging to different channels.
Founder and CEO of CabinetM, Anita Brearton, said the objective of a CDP is to have the most complete picture of a customer and their behaviour in order to make informed marketing decisions: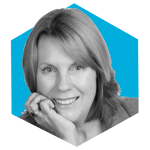 "Companies take different approaches to achieving this. One way is to designate one or more of their existing marketing platforms (like a CRM) as their data repositories and then use a data orchestration/management system to cleanse, append and integrate second and third party data, and then synchronise that data across all relevant platforms. Proponents of this approach will argue that designating an existing platform as the source of truth for customer data is more cost-effective and less complex because it negates the need to introduce another anchor platform into the technology stack."
Anita suggests another approach to implement a standalone platform (CDP) that becomes the single source of truth for customer data. For companies that rely heavily on advertising as a marketing component and have a DMP in place, their DMP can serve as a CDP.
"Fundamentally, to be a CDP the platform should be a repository of customer data (first, second, and third party). Proponents of this approach argue having an independent repository of customer data that feeds other systems makes it easy to manage and update customer data and be responsive in a world of increased regulation around data privacy."
According to Brearton, the foundation for a high-performance marketing technology stack is having a well-thought-out data strategy. Any data strategy should ensure that data is acquired, complete, cleansed, normalised to a company's specifications, and is leveraged properly across the organisation and stack. Anita concluded by stating:
"The decision to introduce a CDP platform generally comes down to a philosophical decision about data architecture, an assessment of what functionality is already in place, and the technical capabilities of the marketing team."
Why marketers should care?
Ultimately, a CDP can help drive a business' ability to operate with a data informed and customer-centric marketing approach. Put more simply, with access to more customer data, smarter personalised communications are possible which provide a better customer experience. Plus, more insights are gained from interactions which help drive future marketing activity.
Top 5 reasons for marketers to invest in a CDP
Create a single customer view (SCV) enabling you to better understand your customer to make better informed marketing decisions and investments.

Optimise performance marketing to drive audience & revenue growth.
Improve the customer experience; rich personalised experiences based on data to drive engagement and reduce churn.
Improve marketing efficiency; automate data flows & channel activation.
Mitigate data risks & ensure compliance.
Creating a single customer view (SCV)
Creating a singular customer view enables you to better understand your customer, resulting in informed marketing decisions and investments.
A CDP puts marketing in control of data unification. As a pre-packaged system configured to meet the challenging data matching requirements marketers face, a CDP unites this valuable data into a singular view of each real business customer.
As MarTech Alliance consultant, Apoorv Durga, points out, this 360 degree customer view is probably the biggest benefit for marketers:
"Marketers now have access to all customer data, and therefore they don't need to manage silos of customer data. They can run truly omnichannel campaigns across channels and devices, and they can segment and run sophisticated predictive models on these unified customer profiles and customer data.
All of this results in better personalisation, more useful analytics, and an overall improvement to customer experience, which translates into repeat customers, increased loyalty, more leads and sales."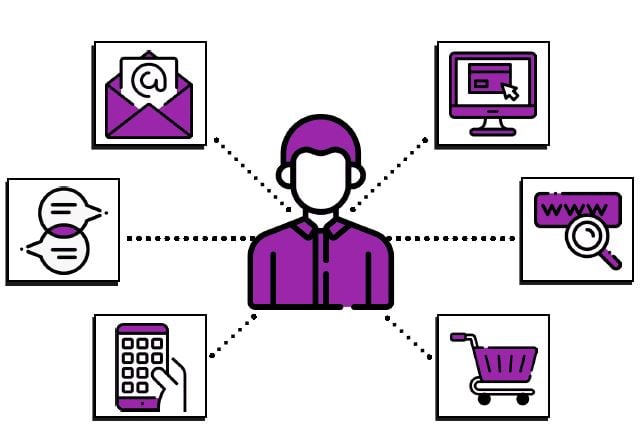 In most businesses, data is collected in separate systems: CRM, websites, apps, events systems, the list goes on. The data sits there, siloed, with minimal sharing across platforms or business departments.
Researchscape reports 46% of marketers only have data from a few of their channels connected, while over a quarter do not have any channels connected whatsoever.
Connecting that data can create a holistic picture of the customer. But more often than not, units of data are kept separated and unable to communicate.
This challenge, combined with traditional methods of collecting data, which then can't be imported into newer platforms, means there is a wealth of customer data going to waste. Other approaches such as data lakes, collect heaps of data, but requires a lot of resources to manage it and struggle to manage it well.
A CDP provides a smart and simple way to integrate all your data sets. Gaining a true single customer view (SCV) means you can better understand who your customers are. While gaining rich analytics helps to improve audience segmentation, better understand channels which engage users, content topics and types that resonate. This ultimately enables highly informed marketing decisions and investments to be made.
Optimise marketing channel performance

Having a single customer view (SCV) unlocks the ability to deliver the right message to the right person at the right time based on the data harnessed. This optimisation in performance marketing has the potential to significantly drive audience and revenue growth.

Rich personalisation across a range of channels, triggered in real time to the right segment becomes possible, resulting in improved channel performance. For example, you could integrate a CDP with your Facebook and Google Ads to hyper-personalise, pinpoint target audiences and even suppress audiences which underperform, helping drive return on advertising spend (ROAS).

A CDP can also provide improved channel analytics to better understand all customer touchpoints and impact, helping inform and optimise future channel execution.
Improve the customer experience and reduce churn
The result of better-connected customer data points and being able to deliver the right message to the right person at the right time is being able to orchestrate a great customer experience.
Being able to personalise at scale is more important than ever as customer expectations continue to rise. In fact, a customer experience (CX) journey; visiting your site, receiving an email to talking to your sales team, is just as important as the product or service sold.
To stay ahead of the CX game, marketers need to use data on their customers to serve up the right offering, at the right time, to deliver rich personalised experiences. However, according to a Forbes Insights and Treasure Data survey in 2018, 47% of marketers say it takes more than a week, while another 47% say it takes three to five days to analyse and draw conclusions about the success of a marketing campaign or to change CX.
How personalised an experience can you provide if you're not doing so in a timely fashion? Not very. This is where a CDP bridges that challenge.
Improve marketing efficiency

With a multitude of channels, data points, content, messages, audiences and campaigns marketing the co-ordination and orchestration becomes incredibly complicated and time consuming.

A CDP at the centre of your marketing operations goes a long way to helping streamline the efficiency of marketing and deliver an often-underappreciated return on time (ROT).
Mitigate data risks & ensure compliance
With the introduction of the California Consumer Privacy Act (CCPA), the General Data Protection Regulation (GDPR), plus other privacy laws, effectively managing and respecting customers' data privacy is more critical than ever. A CDP can help you deliver and manage a robust data governance plan to mitigate your risks both legally and from a brand trust decay perspective.
2.The CDP Landscape
CDP History
While CDPs first started popping up in 2013 as DMPs were being utilised for other applications, the concept for a CDP is one that's been around for a while.
Way back when, the CDP was operated manually. The first instance would be corner shop owners writing down what their loyal customers bought, and what they might like to buy in the future. These notes would be tracked over time to be served as recommendations over the phone.
Back then, it was simply known as customer service. Fast forward and rather than customer interactions being tracked by pen and paper, we now have the ability with software platforms and AI to track and target at an exponential scale. Collecting and organising all customer data online and offline.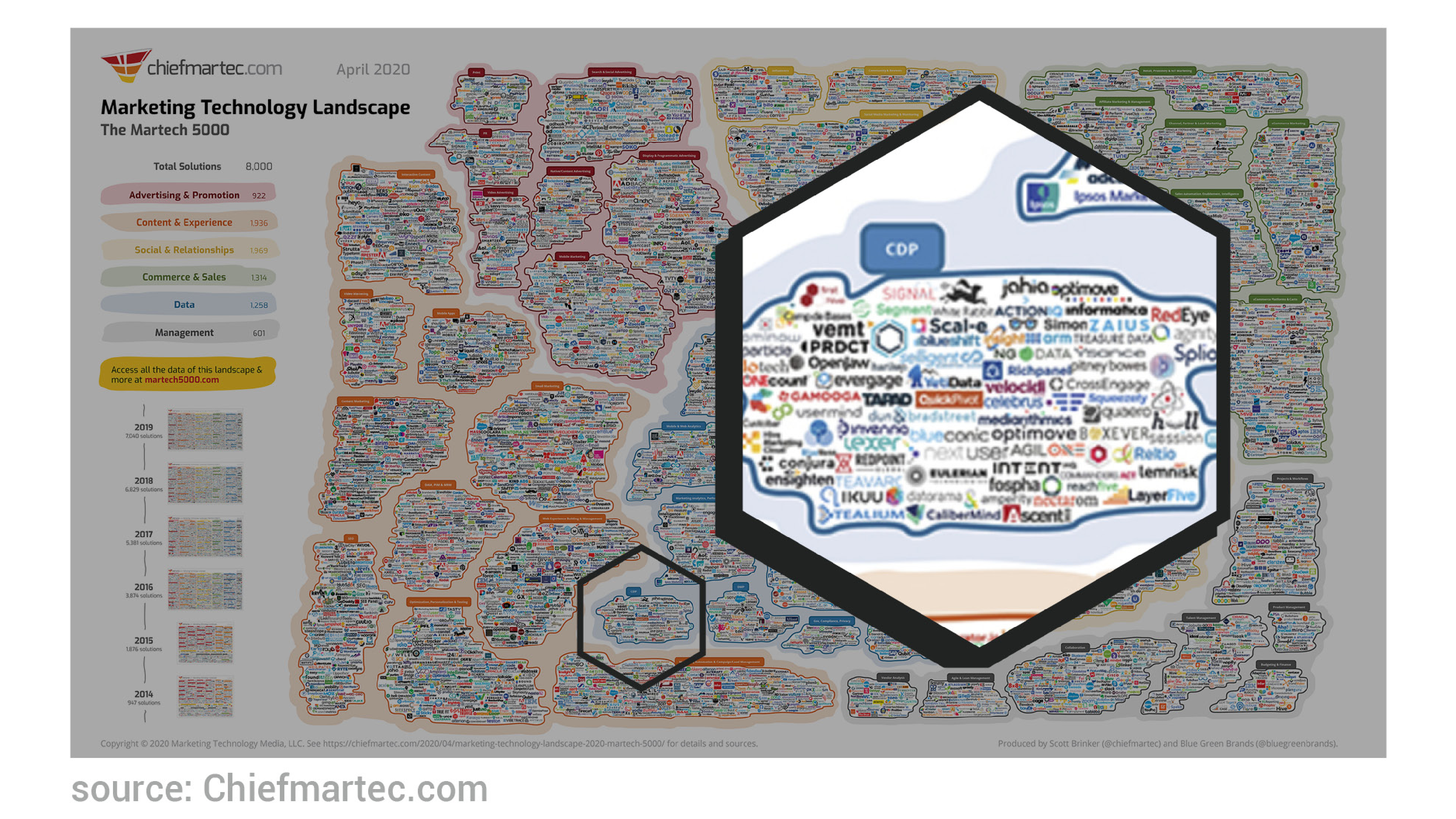 True CDPs that we know today were formed in 2016, and as the marketing industry and tech vendors quickly recognised their relevance, the market expanded. According to The CDP Institute's 2020 Industry Update, there was a 48% increase across vendors in 2019, a 64% increase in CDP employment, and a 32% rise in funding. Watch this space.
Marketers have come to recognise the need for unified data and the shortcomings of data lakes, DMPs and CRMs. As GDPR and CCPA and other privacy regulations continuously come into effect, the CDP is not only important to address the demanding customer, it is also important to avoid massive fines.

Prior to 2016, the phrase 'Customer Data Platform' was not common, but 'custom' CDPs did exist - that is custom-built data platforms to house customer contact and interactions. It was during this period that a greater demand for professional services was heating up, especially as platforms at the time were not really designed with marketers in mind, but for 'techies.' Fast forward to 2010, and the CDP was easy to use, intuitive and designed so internal and external stakeholders could easily understand it and leverage its capabilities.

The CDP industry has continued to explode in 2019/2020, reaching 101 vendors, 8,400 employees, and $2.2 billion in funding, according to The CDP Institute's recent January 2020 Industry Update. Generally, the CDP market is expected to grow to $3.3 billion by 2023, with new vendors popping up almost daily.

The likes of Adobe, Oracle, SAP, Salesforce, and Microsoft have released CDP products.
The future of CDPs
The cookie is dead, long live the CDP!
The CDP is primed to take advantage of the death of the cookie as Google recently decided to make cookies on its platform obsolete within two years. The cookie, which is most often the fuel for DMPs, tracks internet usage across the internet and creates user profiles. This, understandably, raises privacy concerns, and Google isn't the only platform to get ahead of the ongoing negative consumer perception of cookies.
Cookies have been used widely for advertising and marketing targeting, particularly for programmatic advertising, but they can actually be pretty hit and miss. For long-term customer reach and targeting, a CDP is far more accurate because it uses real data on actual customers, leading to trusted results. In fact, Uber just turned off $100 million of programmatic ad spend and saw no change in results.
It has been proven that consumers are willing to hand over personal data to trusted businesses if it enhances their CX. According to Accenture, in 2019 73% of consumers were willing to share more data when brands are transparent. Accenture also found consumers want a better, more customer-focused experience, and 66% of them are willing to share more personal data in return. In fact, Forbes reports 44% of organisations it surveyed found a CDP is helping drive customer loyalty.
The key here is control and consent. Customers know that to get the level of service they now expect they must provide a certain amount of information, and they are okay with it when a business asks and is transparent about what it will be used for. What they don't like, and are increasingly aware of, is internet activity being tracked without consent, and data being gathered and then sold to third parties.
CDP Investment
It is in this consumer awareness age of big data and privacy where CDPs are coming into their own. As stated, The CDP Institute reports the industry added 14 vendors, 1,300 employees and $236 million in cumulative funding, for six-month growth of 16% at the end of 2019. LUMA State of digital 2019 reported since 2017 there has been $750 million invested in CDPs.
Twelve-month growth rates were 48% for vendors, 64% for employment, and 32% for funding. The CDP Institute estimates 2019 revenue of $1 billion and projects 2020 industry revenue of at least $1.3 billion. The CDP now has 101 vendors, 8,400 employees, and $2.2 billion in funding.
The top five CDP companies based on employment are Segment, Tealium, Treasure Data, SessionM, and Optimove, with the average size of these companies doubling since 2016, while average funding grew from $55 million to $125 million.
Similarly, CDPs are attracting a lot of investment. For example, $50 million in Amperity in July last year, a $35 million investment into CleverTap in October, and a $32 million investment into ActionIQ this year.
While the industry may have started with the smaller pureplay tech vendors, the major players are getting in on growth, with Salesforce, Adobe, Oracle, SAP and Microsoft carving out a piece of the industry. This, in turn, is expected to provide marketers with a little more piece of mind when it comes to adopting this technology.
This all presents an astonishing opportunity for CDP vendors, particularly after Tealium recently found most marketers are planning on switching their CDP in the next 12 months, despite 85% being satisfied with their current platform.
"Since CDPs provide important functionality, several vendors are jumping in. Some of them are rebranding their existing systems, some are pivoting, and some have created CDPs from scratch. This marketplace will remain in flux, with new vendors emerging and some going away, or pivoting.
Because the marketplace is so crowded, vendors will start to differentiate their offerings. We are already seeing different types of differentiation – based on data lifecycle (data management vs data activation), based on AI and ML capabilities, and even based on domains." - Apoorv Durga.
3. CDP Shopping
Do I need a CDP?
So now you've got a handle on what a CDP is, the question to ask your marketing function is: Does my business need a CDP?
Do I need a CDP checklist:
Do I have disparate or siloed data in my organisation?




Do I want to combine online and offline organisational data?




Do I want to market to customers in real time?




Do I want to better understand the customer journey?




Am I drowning in data and struggling to get insights from it?




Do I want to personalise my offering to customers?




Do I want to improve CX?




Am I currently reliant on outdated and non-compliant third party data?




Do I want to delve a bit deeper into customers'




wants and needs?




Do I need a single source of customer truth in the organisation?




Do I want to be better able to prove marketing ROI?




Do I want to better integrate my channel marketing activity?



If you have answered yes to any of these questions, then a CDP could absolutely be the answer.
How to select a CDP
So before jumping into the specifics of which CDP is right for you, it's important to ensure you adopt a methodical approach to any Martech tech selection and implementation. We would recommend the following sequence of events:
Internal requirement gathering & RFI
Project steering committee established
Business use cases – User/business focussed
Platform use cases – Features/functionality focussed
Vendor score card
RFP
Vendor selection – (Too often companies jump straight into their selection and it all goes wrong. Often, they don't spend enough time and money on what follows either)
Proof of concept
Implementation & configuration
Stack integration
Training & onboarding
Support & upgrade
Vendor management
Audit & review
Now let's dive into identifying which CDP fits your organisation. A great place to start is by walking through business use cases and platform use cases, defining which ones are most important will inform your RFI, RFP and your vendor score card. This will also ensure you can easily short list the CDPs that will best match your needs before reaching out to a multitude of different providers.
Business use cases
Common business use cases centre around the following key areas, below are some examples of what your specific use case might be: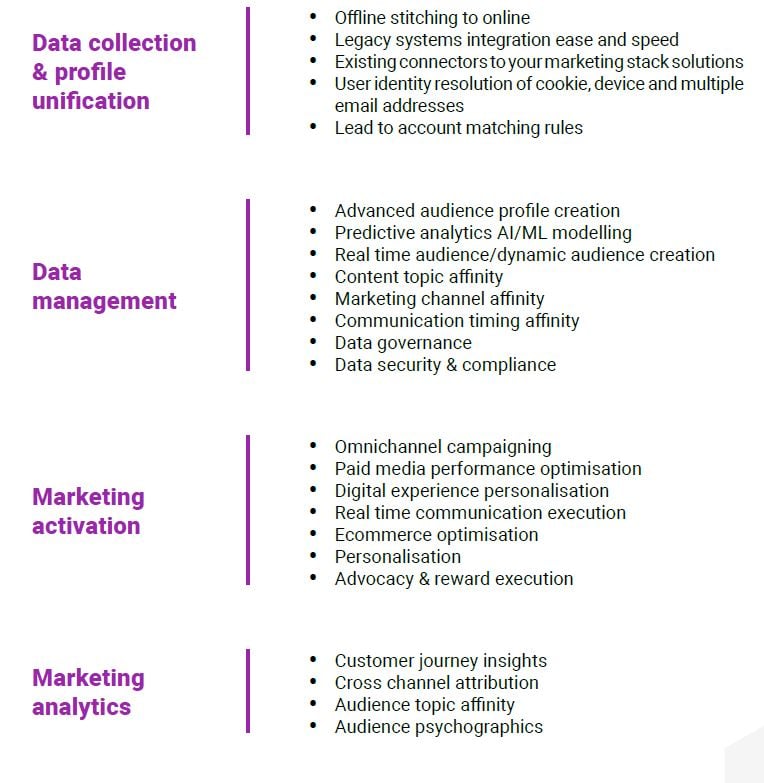 For each of your business use cases you will want to document specifically what you want a CDP to help solve. Below is a framework that may help collect all.

We would recommend that you go deeper and describe.
Defining your use cases is key to your RFI/RFP documents proving meaningful to CDP vendors. This will allow them to understand your exact requirements and showcase how their solution can play this out when they demo their platform vs providing a generic overview of capabilities.
Creating a vendor score card to mark each vendor is the next step.

Platform use cases
Underpinning each business use case will be a series of features and functionality. These form the platform use cases to frame and score vendors from a different perspective. It's helpful to create a score covering both areas.
Detailed below are some of the example features and functionality by platform feature:

Beyond your business use cases and platform use cases you also want to assess technical architecture fit as well as areas such as product roadmap, training and support, partnership network etc.
We can't cover every area of a vendor score card in this guide, but you can access our vendor scoring model and vendor demo questions check list by joining the Martech Alliance Membership or taking our CDP digital training course.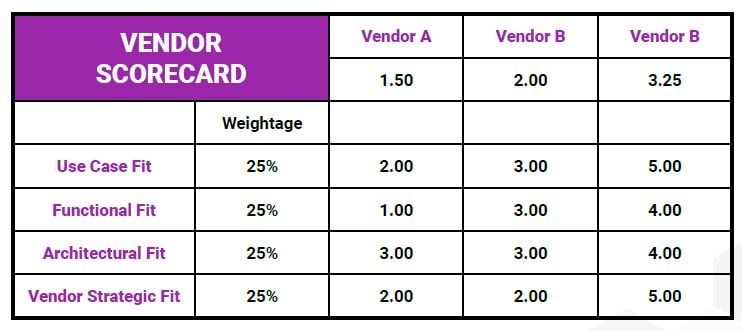 With your use cases documented, vendor scorecard defined, and RFI/RFP created it's time to start connecting with vendors.
Creating a short list based on your company profile and preference is a good starting point; CDP type (marketing suite vs a pure play CDP), B2B or B2C focus, functional specialism, industry and company size match. You can access our CDP directory to help with this process.
As you progress to chatting with vendors, we would recommend you:
Take your time & prepare – Don't rush the process. Make sure you have done your research to better understand the CDP space. Ensure you have details of your data sets available and as well as you documented your vendor score card and questions.
Run a custom demo

– Make sure vendors have your business use cases and business background weeks before your demo so they can sufficiently prepare and tailor what they present so you can make a fair assessment.
Get into the detail of your data

– Get into the nuts and bolts of your data sets to really assess the ease, speed and cost of getting a CDP in place.
Review vendor case studies

– Ask for customer case studies showing key results of their platform.
Get vendor customer references

– and ideally direct access to chat with some of their clients.
Assess direct and indirect vendor costs

– Ensure you get all costs from vendors from data hygiene and onboarding, custom integrations, consulting, training and any other area beyond the platform licensing itself. If the vendor doesn't cover all areas, ensure you have forecast what additional investment is needed. This could be consultancy to manage your data or an internal new hire such as a marketing analyst/data scientist to be the platform super user.


SPONSORED CASE STUDIES
Dunelm and Tealium

The Challenge
Dunelm needed to unify their disparate 'owned' first-party data on a single platform and make it actionable.
Solution
They chose Tealium AudienceStream to fix an omnichannel data disconnect and unify its customer data.
Leveraging a Customer Data Platform (CDP) has given Dunelm an 'out of the box' and user-friendly solution that has been rolled out across the business. It enabled Dunelm to deliver behaviour-led campaigns and drive purchase frequency.
Results
It has been crucial in allowing Dunelm to deliver behaviour-led campaigns. They're now able to match more than double the users in abandoned baskets, seeing a conversion uplift of +15%.
Another successful result was the campaign 'Favourite Category', which dictates content within Dunelm's 'Welcome Journey' for new contacts. Being able to personalise with the use of unified first-party data has led to:
7% click-through uplift.
23% conversion rate uplift.
Founded in 1979, Dunelm is the UK's market leader in homewares retail with 177 stores across the country and a thriving online business. Dunelm has been resilient in a challenging retail market, achieving sustained growth, 85% of which was attributed to market share gains in 2022.
Driven by Dunelm's digital investment strategy and a need to achieve incremental growth online and in-store, the retailer saw an opportunity to boost frequency and turn views across different channels into actionable insights.
How? By raising Dunelm's first-party data game.
Historically, Dunelm had struggled to activate 'owned' customer data. First-party data existed in silos across multiple platforms. Dunelm lacked the capabilities of a CDP, which made enabling customer data through its previous stack clunky, inflexible, and expensive. Fixing this disconnect and unifying data onto a single platform was a progressive step in Dunelm's digital transformation and data-driven marketing journey. Although this is an ongoing journey, the ability to consolidate disparate sources of data has enabled Dunelm to target customers, personalise and improve CX in ways that would not have been previously possible.
Dunelm recognised that its existing CRM lacked the functionality to activate customer data and unlock more targeted data-driven marketing opportunities and needed an 'out of the box', user- friendly solution, selecting Tealium AudienceStream to consolidate its disparate sources of data. Throughout the process, Dunelm sought a strategic partner who could provide the technology and expertise needed to fuel an overhaul of the retailer's customer data strategy and digital marketing stack. Like most things in life, you get out what you put in and Dunelm's shift to leveraging a CDP was no exception.
Ensuring a smooth transition necessitated a major data cleaning and segmentation project, creating a high-quality dataset that would help to unleash the full power of the platform. With Tealium's support, previously fragmented sources of data now exist on a single platform, and are a contributing factor in boosting efficiency, conversions, and frequency, whilst reducing churn and abandoned baskets.
As the saying goes, the first step is always the hardest. Rolling out a CDP has given Dunelm the springboard to address its first party data and data-driven marketing ambitions. It has also been an important step in Dunelm's digital transformation strategy, helping to future-proof the business in a competitive market and tap into new opportunities for personalisation, innovations in customer experience and first party data enrichment.
"Through our partnership with Tealium, we've seen an impressive uplift in frequency, efficiency and effectiveness by being able to quickly deploy more targeted communications. We've matured as a business, testing, learning and implementing as we go. Crucially we now have the data engine needed to propel Dunelm's digital transformation drive."
Darren Short, Senior CRM Manager, Dunelm
Why is now the time to invest in a CDP?
The Customer Data Platform (CDP) landscape has undergone significant changes in recent years. As businesses transition towards omnichannel and digital commerce, the need to manage rapidly growing customer data silos has become increasingly crucial, as well as the ability to efficiently maintain strict compliance and privacy standards in the handling of customer data.
Adopting modern CDP technologies that allow companies to process and understand data in real-time and activate it for customer-centric decision-making is essential. This approach leads to a comprehensive understanding of customer behaviour and enables highly personalised experiences across all touchpoints, with a privacy-first approach, improving engagement, fostering loyalty, and driving revenue growth.
CDPs are, in fact, the type of software that aggregate first, second and third-party customer data collected from a variety of sources, structure it into central customer profiles and then share data with other marketing technology systems to create accurate audience segments to be activated across other channels such as paid media, SMS marketing, customer service tools and even website personalisation. The end result is the ability to not only manage data in a compliant and structured way, but also to be able to efficiently deliver targeted, customised experiences at scale across the whole of the customer journey, bringing commercial outcomes in no time.
Companies that invest in CDP-related systems and technologies are hence experiencing better results across multiple business metrics, with higher growth in revenue, a smaller time-to-market times and improvements in profits, customer satisfaction, and operational efficiency. By leveraging a CDP effectively, brands can overcome the challenges posed by evolving consumer journeys and expectations and stay ahead of the competition.
Zeotap & Virgin Media O2
Virgin Media O2 is a British mass media and telecommunications company based in London, England. The company was formed in June 2021 as a 50:50 joint venture between Liberty Global and Telefónica through the merger of their respective Virgin Media, the UK's fastest major broadband provider, and O2, the UK's favourite mobile network operator.
The new brand has 46 million+ broadband, mobile, phone and home subscribers, 18,700 employees and £650 Million a year spent in advertising. Virgin Media O2 turned to Zeotap to optimise their acquisition campaigns and managed to save £1 million in advertising budget with a smarter, more efficient targeting by suppressing existing customers, thanks to Zeotap CDP.
Let's look deeper at how a Zeotap CDP suppressing capabilities can help companies address the right target, improving online campaigns and driving business outcomes.
The Challenge
In a panorama where millions of Euros fail to bring the expected digital advertising commercial outcomes, an effective paid acquisition strategy involves taking steps to minimise the wastage that comes with inaccurate customer targeting, helping companies identify and engage with new prospects who are more likely to convert. A better targeting strategy will impact not only on Conversion and Acquisition Costs, but also on ROI, allowing the saved money to be reinvested.
With the objective of reducing cost per order (CPO) while increasing conversion rate and customer acquisition efficiency on its digital advertising campaigns, Virgin Media O2, aimed to improve its paid acquisition strategy by:
suppressing irrelevant customers (existing customers, who have already purchased, or cannot purchase) from its campaigns;
acquiring new customers;
upselling or cross-selling to the existing ones.
The Solution
Virgin Media O2 worked closely with Zeotap to identify the right audiences to target, by suppressing the existing customers from its media campaigns.
The process followed 3 main steps:
Zeotap CDP unified first-party customer data from 3 key Company data silos: Web, Mobile, Cable.
Zeotap CDP stitched together 41.7M rows of data to identify 5.5M existing unique customers' profiles with 8M targetable IDs on activation platforms
Zeotap CDP created audience segments to be suppressed from the designated activation channels in order to exclude existing customers from digital advertising campaigns on Google Search and Facebook; and from retargeting campaigns on Facebook and Instagram
Using Zeotap's CDP's impactful suppression capabilities to spend smarter on its acquisition campaigns, Virgin O2 reduced Cost per Order (CPO), while freeing up budget for other prospecting campaigns.
The Results
Thanks to Zeotap CDP, Virgin Media O2 saved £1 million direct budget on paid media in one year, while bringing more new customers in return. It was able to suppress 70% of existing customers from its digital campaign and decrease the cost per order by 37%, while increasing the conversion rate with re-invested budget up to 43%.
4. Summing It Up
The CDP space has exploded and is only going to get bigger. If you're looking to gain a 360 degree profile of your customers, optimise your channel marketing, optimise analytics, push data driven marketing efforts or drive marketing efficiency then it's likely a CDP can help enable one, if not all of these.
Finding the right solution for your organisation isn't a quick and easy process, so it's important to understand the range of CDP providers available. Finally, clearly define the use cases of how you would use a platform to arrive at the right fit for your needs. Make sure you follow a methodical process when doing so, from business and platform use cases to creating a vendor score card and doing your due diligence on prospective vendors.
To learn more about customer data platforms checkout our learning programmes, content hub and events series.
To find out more about how you can integrate a CDP into your organisation, or discuss how the wider world of martech can help your business operate at the top of its game, contact us here.