Ferrari V12s, vinegar ice cream and dinner with Horacio Pagani
Jethro enjoys a trip to supercar central and an audience with Mr Pagani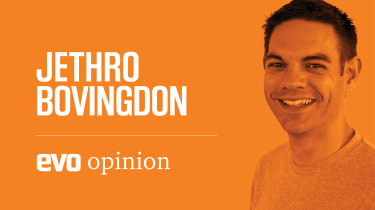 In late 2021, I donned a hazmat suit, stuck many, many devilishly painful 'swabs' up my nose (pretty sure they're actually tiny obsidian blades) and headed on an aeroplane to Italy. It took weeks of scouring rules, many hours of filling out forms and constant scrolling between news channels as rules, quarantine periods and flight availability changed almost hourly. And you know what? It was worth it. Every painful moment. Italy is bloody amazing! Travelling is also bloody amazing.
I was there for the Motor Valley Fest, an annual celebration of engineering, design and manufacturing expertise now in its third year. Think of it as a Goodwood Festival of Speed spread across Modena and the surrounding area: Ferrari F1 cars ripping around a makeshift circuit at the Novi Sad Park, static displays from manufacturers and suppliers in the simply gorgeous Piazza Grande, and various meet-ups, rallies and trackdays from the dreamy Apennines nearby to Varano and Imola. 
Motor Valley Fest doesn't yet have quite the concentrated brilliance of Goodwood but the sprawling, occasionally chaotic approach is uniquely Italian and people came from all over mainland Europe in their Ferraris, Lamborghinis and Maseratis just to be a part of it. I'd happily go again and soak up the sights, sounds and, of course, the amazing food and sheer enthusiasm of the people. Mostly because it's so nice to be in a region where you don't have to apologise for loving cars. 
> Pagani Zonda F review – revisiting an analogue icon
During these wonderful few days I got to have dinner with Horacio Pagani at his gorgeous house and chat all things Zonda, Huayra and beyond. It was, as you'd expect, a pretty cool way to spend a hot summer's evening and it struck me that an audience with Mr Pagani is my generation's version of an appointment with Enzo Ferrari. I read about these encounters as a kid in various magazines. The waiting. The nerves. The unmoving face behind the dark glasses and the short, philosophical but so often piercingly astute answers. Il Commendatore seemed fascinating but with the power to intimidate of a vengeful pope from generations past.  
Horacio is all smiles. Like 'the Old Man', he prefers to speak in Italian and, also like the Old Man, he understands more English than he'd like to pretend! But conversation is easy, Horacio has an affection for older cars that Enzo would never countenance, and he is happy to talk about other sports and supercars he loves. Perhaps it's because he knows Pagani operates in another universe to 'volume' players like Ferrari, Lamborghini and the like, or perhaps because he's just an ever-curious engineer and car enthusiast. 
Like all of us, his mind is occupied by the huge change we're seeing in the way cars are powered. 'The closer relationship between the Motor Valley manufacturers is fantastic,' he says. 'The big topic of discussion is EVs. How can they be truly as exciting and engaging?' If he's expecting a definitive answer on this subject, the silence that follows is deafening. 'Of course, we are working on an EV project,' he continues. 'But not because our customers want it. Quite the opposite. They actively say they don't. From what we see and hear there is no real appetite for EV hypercars.
'The biggest request we get – by a huge margin – is the manual gearbox, of course,' says Horacio, almost with a shrug of his shoulders. The replacement for the Huayra model line, now known to be Utopia, features three pedals and a stick you stir around to play tunes with a V12 engine. Just the way God and Il Commendatore intended.
We move on simply because we both feel the EV question is too knotty a problem to solve over a relaxed dinner. By the time the vanilla ice cream laced with balsamic vinegar is spooned into bowls (it's delicious, by the way), conversation has moved to other cars. 'What do you like right now?' he asks. I'd just driven the 992 GT3 so blurted that out almost without thinking. 'Porsche's GT department really make outstanding cars,' he agrees. 'They are perhaps my favourite.' Although I soon hear how he adores his Ferrari F12tdf and 458 Speciale. 'The engine in the tdf…' he says in awe, before his words trail away. He doesn't need to finish the sentence.
Motor Valley Fest and the closer collaboration it signifies between the likes of Ferrari, Lamborghini, Pagani, Dallara, the local universities and specialists, brings with it mouth-watering possibilities. 'How about approaching Ferrari to use their V12 engine?' I posit. He smiles, then chuckles. 'We are working more closely to protect our industry, to look at future solutions and train the engineers we need. But ultimately we are still… rivals, if you like. Our future remains with Mercedes.' Even so, we both imagine, just for a moment, a 1200kg Pagani with the 819bhp screamer from the 812 Competizione. Enzo wouldn't stand for such an idea, of course. But, behind the glasses, surely his eyes would be smiling.