Hankook charges ahead with new EV-specific tyres
For optimal performance from your electric car, you need a set of tyres made especially for the job
Advertisement feature from

Your electric vehicle is not like other, conventionally-powered cars, and that means its tyres shouldn't be the same, either. Various aspects of an EV's nature present different challenges to your only contact patch with the road, but happily, Hankook's new iON range of tyres has been specifically developed to address them all. And very successfully at that – the iON S and SX both have 'Triple A' EU ratings, with top scores in the fuel efficiency, wet braking, and noise categories. 
Noise reduction
With no engine sound to drown it out, tyre noise is far more perceptible in electric vehicles, so reducing it becomes more important than ever. Hankook iON tyres feature Sound Absorber™ technology with a special polyurethane material applied to the inside of the tyre to reduce cavity noise, and knurled inner tread grooves to dial back tread noise.
The tread block's shapes and sizes have also been optimised. This is known as 'pitch frequency' - by varying the blocks, their contact with the road occurs in a more random manner, removing the unpleasant drone that would result from a more uniform arrangement. All of these elements work together to make each journey more comfortable and less stressful for you and your passengers.
Rolling resistance 
Given that it currently takes a lot longer to recharge an electric car than refilling a combustion-powered car with petrol or diesel, especially important to improve rolling resistance to increase an EV's range as much as possible. On iON tyres, this is countered largely through the rubber itself.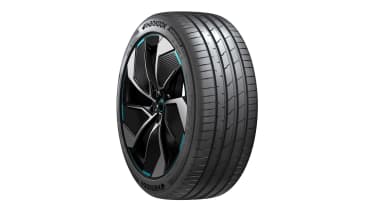 iON tyres are made with Hankook's EVolution compound, featuring high-concentration silica and eco-friendly materials, reducing rolling resistance while also increasing the tyre's mileage. The compound also features a high concentration of natural oils, which boosts sustainability and reduces the overall amount of material used in the tyre's construction, trimming the weight of each by up to one kilogram to give a further reduction in rolling resistance.
Finally, optimised curing plays a part. By curing all parts of the iON S and SX equally - as opposed to over-curing the sidewalls and tread, as is the case for some tyres - all parts of the tyre are improved equally. This decreases resistance and improves tyre life.
Air resistance
Combatting rolling resistance isn't the only way to increase efficiency with a tyre. It's also important to reduce drag, and there's more that can be done to a tyre in this respect than you might think. The tyre pattern has been designed to reduce air resistance as much as possible, and even the lettering has been carefully thought about to keep the sidewalls aerodynamically efficient. 
Weight
Thanks in large part to their use of hefty battery packs, EVs typically weigh a lot more than their combustion counterparts – on average 25-30 per cent heavier. That's why the iON range is strengthened to achieve the top XL (extra load) rating. 
To maintain excellent steering performance and handling characteristics in the context of this weight, iON S and SX tyres feature a reinforced belt containing aramid fibres – an extremely strong material associated with ballistic body armour. This helps the tyre maintain its shape when under high load.
iON tyres also use a bespoke 'contour' to carefully shape the tyre, leading to a 10 per cent increase in cornering stiffness.
Instant torque 
EVs aren't just able to generate significant amounts of torque - they're capable of delivering peak torque instantly. This puts additional strain on the tyre, which is also dealing with the extra weight we mentioned earlier.
That's why iON tyres have extended outer shoulder blocks, increasing rigidity and providing greater contact with the road. This in turn helps prevent the wheelspin that instant doses of high torque can result in. 
Availability 
In Europe, the iON range crosses four different categories and a variety of sizes covering many EV models. For the summer tyre segment is the iON S – currently available in nine sizes from 18 to 21 inches in diameter – and the SUV-focused iON SX, offered in 14 sizes from 18 to 22 inches.
From September 2022 the iON winter tyres will arrive. The iON winter tyre will initially be available in 13 sizes from 18 to 21 inches, while the iON X winter tyre for SUVs will come in 23 sizes from 18 to 22 inches.
TÜV SÜD certification 
Independent German testing company TÜV SÜD pitted the Hankook iON S against its competitors, where it achieved the best results for wet and dry braking when mounted to a premium electric vehicle. It was also the quietest tyre tested, and performed strongly in every category.