'I suppose we should be grateful for our contorted roads and gnarly tarmac'
Next time you drive, spare a thought for the road surface, says Meaden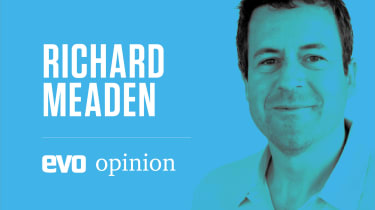 As an evo reader it's fair to assume you pay special attention to the details of driving. Obviously, that starts with your choice of car magazine and is swiftly followed by your choice of car. That pernicketyness almost certainly extends to the brand and specification of tyre you fit to it and the grade of fuel you put in the tank. Because such differences make the difference, you'll make sure the car is well maintained, most likely at a specialist who looks after your car as though it is their own. You might even upgrade the dampers or brakes to improve its handling and stopping power. And, to make sure you're not the weakest link, you'll work at your driving skills, too.   
However, the most influential link in that critical chain is one that most of us overlook – the road itself. Unless you're a motorcyclist, it's unlikely you pay too much attention to the snake of tarmac spooling endlessly beneath the car. At least much beyond scanning for clues on approaching corner radii or making a cursory check for potentially sump-smacking dips. 
True, the jeopardy of misreading the road on a superbike is far greater than in a supercar, yet it's those four contact patches that connect our car – and therefore us – to the action. 
> 'Does Ferrari make the most reliable cars in the world? I think it might.'
There are roughly 250,000 miles of road in the UK. Of these, less than one per cent are classed as motorways and 12 per cent are A-roads. The remaining 87 per cent are classed as minor roads. Of these the mythical British B-road accounts for a little under 9 per cent (18,900 miles), with the rest C-roads or Unclassified.
Once you understand the make-up of a country's roads, it's easy to appreciate how they can shape the DNA of the cars we drive. It's long been said that the generally lumpen nature of the UK's roads means cars that are set up here have a unique stamp. They accept the road is something that cannot be bludgeoned into submission and instead needs to be worked with, via supple springs, pliant dampers and a poised yet agile balance. 
Conversely, German cars are traditionally firmer and more authoritarian in their set-up, because German roads are smoother with fewer sharp-edged impacts to absorb, and because the 8000-mile autobahn network informs the need for high-speed stability. In addition, the surface dressing of German roads is generally finer than here in the UK so road noise is less of a challenge. 
The rise of so-called 'world cars' engineered for global markets, plus the breadth of control offered by adaptive damping, has masked national traits to some extent. Yet it's still the case that UK roads regularly wrong-foot cars that haven't spent any set-up time on this sceptred isle. I suppose we should be grateful for our contorted roads and gnarly tarmac.
Thanks to local council policy, the UK's minor roads are a cratered mess – I think Northamptonshire last attended to its potholes when Emperor Claudius announced the completion of Watling Street – but at a national level the UK has a proud heritage of boffins who have advanced the engineering and safety of the world's roads. Back in the 1960s, the UK's Road Research Laboratory pioneered skid resistance testing, developing a method of testing road surfaces that could make continuous measurements over long distances. Those principles enabled the UK's road network to be monitored and a national standard applied. This is now used to inform continual maintenance programmes on our major motorways and is a major contributor to the UK's motorways being amongst the very safest in the world.
Such monitoring also informs the application of high-grip surfaces to particular sections, such as slip roads (no pun intended) or some of the more sinuous stretches that link motorways. You won't spot them; road builders know that a contrasting colour, such as the old sandy-coloured Shell Grip, encourages people like us to gird our loins and carry more speed. Still, I have it on good authority there are some stealthily applied sections of link road on a certain orbital motorway that have miraculous grip properties. If only I knew where they were… 
Roads will also play their part in the war on carbon emissions. Asphalt producers are exploring new ways of reducing rolling resistance to improve fuel efficiency without compromising skid resistance. The savings could be as much as a 10 per cent if such surfacing was rolled out across our network of main arterial roads. Those same companies are also looking at alternatives to oil-based bitumen, though this is some way off.  
So, next time you go for a drive you might want to pay closer attention to the humble blacktop. We Brits bemoan our potholes, but when the going's good there's no better feeling than revelling in that righteous point of contact where tyre meets tarmac.