Kia Stinger GT taken off sale in the UK
Kia's Stinger GT is now dead in the UK to make space for EV6 GT flagship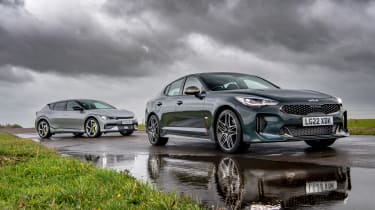 Kia has announced that the Stinger GT is officially dead in the UK, leaving space for the all-electric EV6 GT to take its place as the brand's flagship high performance model. Initially introduced as a high performance fastback in 2017 with both petrol and diesel powertrains, the large four-door was best known for its 360bhp turbocharged V6 petrol model that helped redefine the brand in the UK, rivalling premium saloons like the BMW M340i and Audi S4.
Stinger sales will continue in other markets where it still proves to be popular – particularly in North America and Australia. In the UK, Kia will focus its resources on the delivery of its EV6, Sportage and Niro crossovers, all of which are selling faster than Kia can build them.
Despite premium ambitions and lots of resources behind its development, the Stinger GT never quite caught on in the UK, its large dimensions and thirsty petrol engine keeping it as a niche choice in Europe. It was fast, though, and despite some rough edges to its driving experience was a fascinating addition to Kia's range.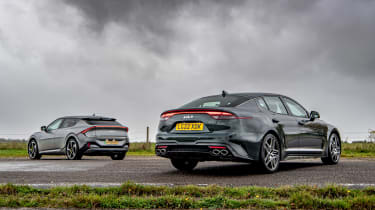 Yet more than anything, the Stinger cemented Kia's ambition to become more than just a value-driven brand here in the UK. Regardless of its limited sales success, it helped Kia shrug off its previous image, thrusting its brand upwards in the market to the leading edge of the mainstream sector. 
Nothing underlines this change in brand perception better than the new EV6 GT that's due to replace the Stinger. Coming with a £62,645 list price, 577bhp electric powertrain and 3.5sec 0-62mph time, the car has a full set of figures that were once unthinkable for Kia.