A Guide to Martech Effectiveness
Marketing technology has become essential to marketers over the past decade. However, many marketers still see technology as the exclusive domain of IT, with key decisions on tech selection taking place outside of the marketing department. Or with limited input from marketers.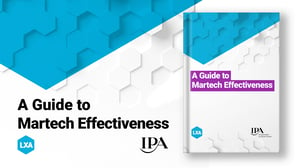 As martech becomes evermore central to marketing strategy, it's important that marketers exert more influence over the process of tech selection. The success of marketing campaigns, achievement of key targets, and day-to-day efficiency depends more and more on having the right technology, and the skills and processes in place to use it fully.
Using LXA's 5Ps of Martech & Marketing Operations framework, and following a survey of agencies and brand marketers, this report looks at the importance of a planned and strategic approach to the selection of martech, and the resources and skills needed to use martech to its full potential.
This report looks at:
How martech helps marketers to solve key challenges
Barriers to martech effectiveness
How agencies are supporting clients with martech projects
How to audit and manage marketing stacks.
Case studies from Vodafone and FT
The 5Ps of Martech & Marketing Operations