Sales Enablement & Sales Operations Best Practice Guide
Introduction
Sales enablement and sales operations are vital components of modern business strategy, particularly in the context of B2B marketing. Sales enablement and sales operations are empowering sales teams to have better conversations with customers, resulting in more closed deals, and a higher ROI. They're more efficient, and more effective.
The modern sales environment is increasingly complex, with customers demanding more personalised experiences and sales teams facing greater competition.
Sales enablement helps to address these challenges by ensuring that sales teams have the support they need to succeed. This includes providing them with the right content and messaging, as well as training and coaching to help them develop their skills.
By providing sales teams with the support they need, businesses can not only drive revenue growth but also improve customer satisfaction and loyalty.
In this guide, we will explore the key components of effective sales enablement and efficient sales operations, and provide practical advice for those looking to implement a sales enablement strategy.
It looks at sales enablement and sales operations using LXA's five pillars model, explaining the role of sales enablement, sales operations, and the areas in which organisations need to improve to ensure maximum impact.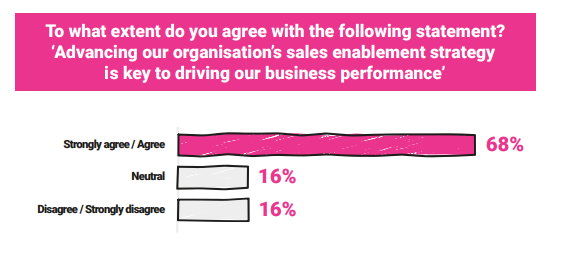 What is Sales Enablement?
There is no widely accepted definition of sales enablement. Some may define it as providing sales professionals with tech, tools, templates and great processes to help them to succeed. Others see it as the onboarding of new sales executives – building the skills and knowledge to improve their long-term sales success.
It may also be the process of ensuring that a company's content, messaging, and positioning is deployed consistently to prospects and customers.
The reality is that sales enablement is a combination of all these components, and more

Sales enablement is not a single position within a company, but an ecosystem that crosses all functional and hierarchical boundaries. It's the process and best practice that breaks down department silos and builds alignment between departments from Sales, Marketing, HR and Operations, to Customer Success, Professional Services and the leadership team.
It isn't a single tool or a one-off initiative, but a strategic discipline that improves the longterm effectiveness of sales, which involves training and coaching processes as well as the use of tools to improve sales intelligence and performance, and to automate tasks and processes which don't generate revenue.
Sales enablement isn't a task for just one person, it's something that requires the efforts of individuals and teams across the organisation.

What are the benefits of Sales Enablement?
A well-implemented sales enablement function will get sales teams into the right conversations, with the right decision makers, at the right time, and in the right way.
By doing this, sales enablement helps increase conversion rates, drives speed to a deal, and grows deal size by selling more intelligently.
And ultimately, that means increased revenue, achieving business goals, and greater success for organisations.
A best-in-class sales enablement programme can deliver benefits such as:
More effective sales recruitment. Sales enablement plays a central role in the sales recruitment process by defining the candidate competencies and traits needed for success. Better recruits achieve better results.
Improved sales training. From designing and implementing team-wide training initiatives to providing managers with coaching material, sales enablement can help to deliver more effective sales training.
Improved tech implementation. Sales enablement helps to integrate and configure the sales stack to optimise the sales team's ways of working. This means tools are adopted and used by sales professionals to drive their efficiency
and effectiveness.
Improved content performance. Sales enablement helps to align various departments to produce the sales content that prospects require at each stage of the sales cycle.
Increased customer loyalty. Sales enablement is about creating more meaningful customer engagement which boosts overall satisfaction scores. When customers are helped to make well-informed buying decisions, sales teams are more likely to secure repeat business and referrals.
Retaining top performers. Sales enablement programs can help to retain top talent through coaching and support to keep developing their skills, career and pipeline, and increasing their potential commissionable earnings.
Reducing risk. Employees have access to updated support resources regarding company policy, rules, protocols and legislation. This reduces risk - especially in highly-regulated industries.
Improve training ROI. A more effective training resource can upskill and reskill team members and ensure that investment in training is repaid.
Better qualified leads. Sales enablement helps to qualify leads and improve speed, relevance, and intent.
Improved conversions and speed to deal. Ultimately, sales enablement improves conversion rates and speed to deal.
Sales enablement success is achieved through creating repeatable, scalable, predictable ways of modern selling. A sales playbook that is documented, understood, implemented and adopted.

Why do you need Sales Enablement?
Technological advancements and shifts in customer journeys have significantly transformed the purchase process, making it more complex than ever before.
Today's B2B buyers demand quick access to information and require a higher level of engagement before making purchasing decisions. Personalisation is expected in every interaction, and self-service plays a big role in the buying cycle.
According to research, there is an average of 9.2 sales interactions before a deal is closed, indicating that buyers are taking their time to inform themselves about products. This highlights the need for sales teams to have an advanced understanding of the market, their product, client pain points and industry competitors to effectively engage with buyers.(1)
The number of people involved in complex B2B purchasing decisions has also increased over time, with typically six to ten decision makers, each armed with different pieces of information. This has made decision-making more challenging for buyers, creating more problems for sales teams to manage. They need to develop more complex messaging and content to engage prospects effectively.
Sales representatives now require greater technical knowledge to engage with buyers effectively, making it essential for sales enablement functions to be agile in supporting sellers as the buyer's needs change. In addition to these challenges, global market downturns have led to increased employee churn, which creates more pressure on organisations to manage their workforce effectively.
The best B2B sales organisations are utilising sales enablement to operate more efficiently and effectively. By leveraging sales enablement and operations, they can better manage the complexities of the modern buying journey and improve their overall sales performance.
The Sales Enablement Ecosystem
Sales enablement sits across the organisation. It's a complex network of interconnected systems, a community of interacting departments - a sales enablement ecosystem, demanding alignment and collaboration with every department.
Sales enablement and operations: Sales enablement and sales operations is at the centre of the ecosystem. This may be an individual, or a team, or maybe even a sales enablement platform.
Sales: The sales team must commit to the processes and technology that make the ecosystem work.
Marketing: Marketing must be on the hook for achieving high engagement and better-than-benchmark ROI. They may be responsible for the go-to-market strategy, or to develop effective content across the buyer journey.
HR: Personnel or HR may own recruitment, onboarding and training of the sales team.
Customer Success: Customer Success will own the onboarding and management of key accounts, driving greater retention.
IT: IT may still take ownership of the sales technology stack and aligning it with other tech within the organisation.
Senior Leadership: Will drive the sales culture and methodology.
Sales enablement roles, responsibilities, strategies, tech and processes will vary based on the size of the company, the sales model, and the geographical regions in which a
business operates.

The 5Ps of Sales Enablement, Sales Operations and Salestech
LXA's 5Ps cover all aspects of sales enablement and sales operations. These pillars are interconnected. For example, if an organisation has the planning in place which is aligned to customers, then they are more able to select and use the technology to deliver on
business goals.
Planning & Strategy: The extent to which an organisation's sales enablement strategy, initiatives and roadmap align to its customers, buyer journeys & business goals.
People & Teams: The extent to which an organisation is well resourced to deliver sales enablement initiatives. And the extent to which an organisation can support sales enablement expertise development; recruitment, agency selection and training.
Platforms, Apps & Ecosystems: The extent to which an organisation has the technology and tools needed to deliver the sales strategy. As well as the level to which the sales stack is integrated, managed and tools are adopted by the team.
Process & Operations: The extent to which an organisation has the sales and data governance, measurability, content planning, sales messaging and campaign process that underpins an organisation's sales strategy and sales enablement activities.
Pioneer & Pilot: The extent to which an organisation is up to date on market trends, able to react to changes in buyer behaviour, customer trends, able to assess and experiment with new sales technologies, and has the agility to adapt rapidly to new sales patterns.
Planning & strategy
Planning is the cornerstone of a sales enablement strategy. It will ensure we have the foundations in place on which we build the Process, Platforms and People, and it's the core from which new initiatives will be pioneered.
Sales enablement adoption is being driven partly by the increasing complexity of the customer buyer journey. The way sales teams operate has to evolve to adapt to customer behaviour.
Indeed, 65% of respondents to LXA's recent State of Sales Enablement report agree that customer journeys have become more complex, and that new ways of selling are required to survive and thrive.(2)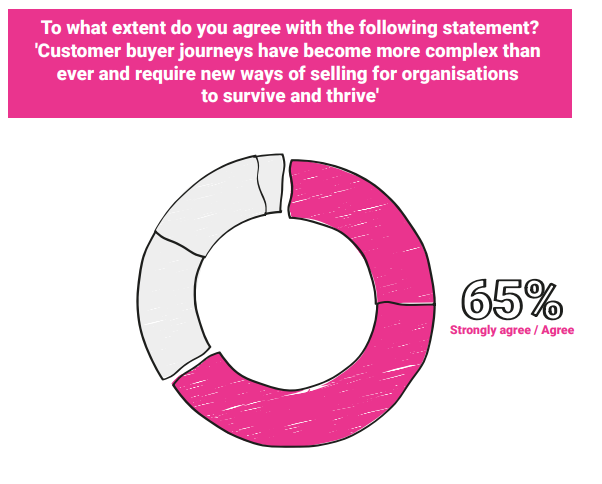 This is why effective planning starts with knowing the customer. Without being customer centric, everything else fails.
Everyone in sales, marketing, and customer facing roles, should know each type of buyer inside and out, what they do, their pain points, and how to win their business.
The more time and effort invested in defining the ideal customer and buyer personas at the beginning, the better the results further down the line.
ICPs (Ideal Customer Profile)
ICPs are the companies that have all the qualities required to make them a perfect fit for the products and solutions being sold.
Consider these characteristics to identify the perfect fit:
Budget, revenue or company size: What is the lowest cost threshold that a customer would have to pay for a product or service?
Industry: Are there specific verticals our solution matches?
Geography: The particular regions a product or service can be sold to.
Product or service fit: Does a service or product match the prospect's technology base, or business model? For example, this could be an SaaS product that relies on the prospective client having Salesforce and Hubspot CRM already installed.
For example, a sales team may be looking for prospects with more than 100 people in their marketing team, operating in financial services, based in Europe or North America, and that are currently using Salesforce or HubSpot.
This information provides a customer profile to target, and allows sales teams to narrow their focus and save time spent chasing irrelevant leads.
Buyer personas
While ICPs focus on the company, personas drill down into the individuals involved with the buying decision.
A buyer persona is a semi-fictional, generalised representation of customers. It describes the demographics, goals, motivators, and challenges they are facing.
Using the example of a financial services organisation based in North America or Europe, using SalesForce or HubSpot - within that organisation, those involved in the buying process may include the Chief Marketing Officer, Head of Compliance, Head of IT, and Head of Marketing Operations. Each of these is an individual, with different unique hopes and fears.
The CMO might be more driven by results and return on investment on the purchase, while the Head of Compliance may be driven by a fear of making the wrong software choices.

Each of these roles will need different messages through the buying journey, and a clear persona profile is needed for each of these.
This profile may include answers to the following questions:
What are their goals?
What keeps them up at night?
What is the average age of the buyer?
What is the average salary?
What will cause them to earn a promotion?
What business events do they attend?
What events might cause them to lose their job?
What is their tech competency?
What is their media consumption?
What hobbies do they have?
Understanding competitors
The majority of sales deals are competitive. Most organisations don't have a monopoly, so sales teams will find themselves competing with a company offering similar products or services.
Competitor analysis is the process of evaluating and analysing a business's competitors. It involves gathering information on the strengths and weaknesses of competing businesses, their products or services, pricing strategies, marketing tactics, and other factors that impact the market.
The goal of competitor analysis is to gain insights into how competitors operate and how they position themselves in the market, in order to make strategic decisions that can help the business gain a competitive advantage.
Competitor analysis can help give a sales team the right competitor information, the right ammunition in content, messaging and training, to make them more effective in dealing with particular situations.
Understanding sales methodologies, pipelines and process
It's important to consider the approach of sales methodologies and processes. The two are interconnected and help to bring sales enablement plans to life.
A sales methodology is a set of guiding principles that define how a sales organisation wants the team to approach sales conversations. It's a common, understood, repeatable, and scalable way of selling.
It ensures that sales operate as a team, repeating what works, learning from each other, and keep optimising this repeatable selling technique.
A well defined sales methodology has a number of benefits:
New salespeople can be hired based on how well they align with this methodology.
Salespeople can be trained more efficiently and effectively.
Repeatable processes ensure sales teams are more powerful.
Sales performance can be assessed more effectively as the baseline for those
metrics is common.
It's easier to articulate how sales teams operate, making it simpler to align other
departments like marketing and customer success.
It can deliver a consistent high quality customer experience.
Which sales methodology should an organisation adopt? There is no one-size-fits-all answer, but there are a number of established methodologies to choose from, each of which can be adapted, or combined with the best features of others.
The Challenger Sales model. Built around a sales process that focuses on teaching, tailoring and taking control of a sales experience.
SNAP selling. A methodology designed to help overwhelmed buyers navigate a complex B2B landscape with too many options, distractions, and conflicting ideas.
SPIN selling. Based around identifying problems the buyer faces that a product solves, and showing why the product is worth the investment.
The Sandler system. This strategy concentrates on asking the right questions during the qualifying process instead of pushing a product on someone who doesn't need it.
Solution selling. A sales approach that focuses on the customers' needs and pain points, and provides products and services that address the underlying business problems.
MEDDIC. A framework used by sales teams to help qualify their sales opportunities.
Although closely related, a sales process or pipeline, and sales methodology, are two different things.
A sales process refers to a series of repeatable steps a sales team takes to move a prospect from an early-stage lead to a closed customer.
A strong sales process helps reps consistently close deals by giving them a framework to follow. Repeatable and scalable procesess enable sales teams to replicate the most effective and efficient ways of selling.
There are several different ways to conceptualise the sales process.
Prospecting & qualifying: In this stage, sales teams find potential customers and determine whether they have a need for the product or service, and whether they can afford it. Evaluating whether the prospects need and can afford a product or service is known as qualifying.
Preparation and pre-approach: Preparing for initial contact with a potential customer, researching the market and collecting all relevant information regarding a product or service. Tailoring a sales presentation to the potential client's particular needs. Preparation is key to success. The better prospects and their needs are understood, the better sales reps can address their objections and set themselves apart from the competition.
Approach: Making first contact with the client. Sometimes this is a face-to-face meeting, sometimes it's over the phone.
Presentation: Demonstrating how the product or service meets the needs of a potential customer. It's about actively listening to a customer's needs and responding accordingly.
Objection handling: Perhaps the most underrated step of the sales process. This is where sales reps listen to a prospect's concerns and address them. It's also where many unsuccessful salespeople drop out of the process. Successfully handling objections and alleviating concerns separates good salespeople from bad, and great from the good.
Closing: The closing stage is a decision from the client to move forward.
Follow-up: The job is not done once a sale has been closed. The follow-up stage maintains contact with customers that have been closed, not only for potential repeat business but also for referrals and advocacy.
Once this seven step process has been laid out, it's vital to ensure it's application is consistent, from one sales person to another, from one customer to another.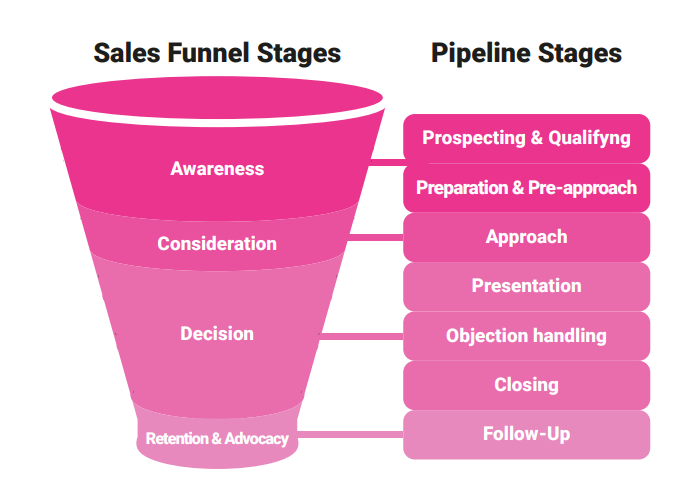 Buyer journeys
While the sales process relates to the internal steps a sales team will take, the buyer journey (or sales funnel) is very much driven by the buyer or decision maker. However, as shown in the chart above, stages can be closely aligned.
The customer, and their buying journey, sit at the very heart of great sales enablement, sales operations, and sales technology strategy.
Content should be created, training provided, and technology implemented with customer experience and the buying journey in mind.
Key stages of the buyer journey include:
Awareness: The buyer realises they have a problem to resolve. The buyer journey begins when a potential customer becomes aware that they need or want a product or service. In theory, they're 'open' to various solutions and advice.
Consideration: The buyer defines their problem and researches options to solve it. We enter the consideration phase when the customer realises that their need must be met. Following initial research, the user has a clearer idea of what they want to achieve and is committed to finding the right solution. However, they are yet to identify what that solution is.
Decision: The buyer chooses a solution. The decision stage is crunch time. It's the moment when the hard work will hopefully pay off with a conversion. The prospective customer has chosen which solution is best suited to their needs and they make the purchase.
Retention: The buyer continues to use the product or service.
Advocacy: The buyer starts to spread the word about the product, whether positive
or negative.
There are a few important points to keep in mind:
Buyer journeys range in complexity.
Buying behaviours, therefore buyer journeys, change.
Buyer journeys are not linear.
Buyer journeys include many decision makes.
Buyer journey stages of progress are often unclear.
Only buyers are in charge of their buyer journey
It will not only ensure better customer success levels are offered but will also increase opportunities for cross and upsell, as well as gaining possible referrals.
Only by understanding customers, competitors, markets, sales process and buyer journeys will a business be able to develop a best-in-class sales enablement and operations function.
Effective sales enablement is really about combining this knowledge of target customers through ICPs and personas, understanding their journey, and creating and executing effective sales methodologies and processes to put this knowledge into practice.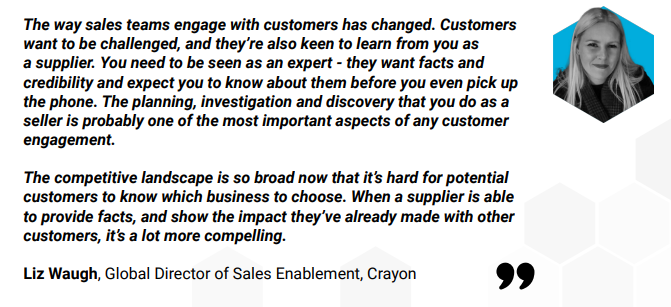 Process: content, messaging,
operations & data
Sales enablement and sales operations work together to drive sales productivity and revenue growth. While they have distinct roles, they are closely intertwined and collaborate to achieve common goals. This is particularly important in the sales process.
Sales enablement focuses on providing sales teams with the tools, training, and content they need to effectively engage with customers and close deals - everything they need to be successful in their role. This can include creating sales collateral, developing sales messaging and positioning, and providing training and coaching to sales reps.
Sales operations is focused on the day-to-day management and optimisation of the sales process. This can include managing the sales pipeline, forecasting revenue, setting sales targets. It is also responsible for creating the infrastructure and processes that allow the sales team to work efficiently.
Despite their distinct roles, sales enablement and sales operations are closely aligned in their objectives.
One way that sales enablement and sales operations work together is by collaborating on sales strategy. Sales enablement can provide insights into the needs of the sales team, while sales operations can provide data on sales performance and market trends.
By working together, these functions can develop a sales strategy that is aligned with the business objectives and optimised for success.
Content strategy
Content is a core pillar of sales enablement as it plays a crucial role in empowering customers to make informed purchase decisions, pushing them further down the buyer journey.
It is a common misconception that content is solely the responsibility of marketing - a strong content strategy is necessary for effective sales enablement.
A strong content strategy will provide a plan to develop, draft, revise and organise the production of content that aligns with the sales funnel, and converts prospects in each stage of the buyer journey or sales process.
An integrated content strategy should align the traditional 'broadcast' marketing content at the early awareness stages with the 1:1 content for sales at the latter stages.
Marketing material will get the attention and generate leads of potential customers. Sales content will help convert prospects and close deals.
The five parts of the sales enablement content strategy are:
Documenting the customer profile and their journey.
Auditing the existing content that fits with each stage of the journey.
Evaluating sales goals.
Filling the gaps in content, or replacing outdated content, to deliver our sales
goals.
Evaluating and updating the strategy and content on a regular basis.
This formal approach will allow the sales enablement function to prioritise content and select content formats which have the most impact on an audience.

Content formats
The different content formats that can be used in a content strategy include:
Case studies: Stories about how other customers have used a product or service to solve a particular business challenge help to build trust with prospects...
Ebooks & whitepapers: Gated content is used for lead generation and qualification, but it can also be used throughout the sales process to inform prospects.
Product sheets: Product sheets provide an at-a-glance reference tool to help make a great first impression. Product sheets also help salespeople to build their own product knowledge.
Competitive analysis: Competitor analysis documents are easy-to-reference content that help a prospect understand a brand's distinctive competencies, and help sales teams understand potential objections so they can overcome them.
Blog posts: Thought-leadership posts can illustrate how problems can be solved. They're also easy for sales teams to share to continue an initial conversation with a prospect or to support a buying decision.
Video demos: Video is a highly-engaging format that can drive new life, and interest, in existing content. Video content can also easily support all the steps in the customer journey, from initial explainer productions for top-of-funnel leads to product tutorials for new customers.
Social content: It's important to reach customers where they spend their time. LinkedIn, Facebook, Twitter, Instagram and other social channels offer an important opportunity to share sales-focused content and move prospects toward a conversion.
Email workflows: Pre-rolled email workflows matched to the buyer's journey and triggered by certain buyer behaviours can nurture prospects from initial interest through to completion.
Interactive content: Interactive content such as calculators, polls, and clickthrough infographics can boost content engagement and drive curiosity and learning.
Brochures: Brochures are still an integral piece of sales collateral that communicates unique benefits of products.
Events: Events can be an important part of the content strategy. This may be webinars, online events, breakfast briefings, VIP dinners and conferences.
Content for the internal audience
Content is also required to support the sales team, as well as external audiences. This will help build their knowledge and update them on market changes or product improvements.
That material may include
Sales scripts & talking points: Sales scripts can help teams 'tick all the boxes' in their conversations.
One-pagers & product sheets: One-pagers are also important in educating sales teams about company products. Sales teams can use them to efficiently communicate the benefits of their services.
Sales training documents: Sales training and onboarding documents are also an integral piece of internal content. New salespeople need to know how content can be used, when it should be used and where to find it.
Competitor research: Competitor analysis and research pieces inform sales teams of their company's strengths, weaknesses, and position in the market.
Micro-content: Mini-decks of a few slides, micro demos of less than a few minutes, client testimonials that can be shared, links to positive client posts on social media and killer one liners for emails and chats.
Content battle cards: Battlecards are effective for that all important deal close stage. Having this information on a product's advantages and disadvantages readily available to sales will ensure they can best respond to questions on
competitors.
Sales Enablement & operational governance
Sales operations will align closely with sales enablement to enable organisations to create a strong foundation of efficiency.
Define clear and measurable sales goals and objectives that align with the overall business strategy.
Create standardised sales processes and workflows that are consistently followed by the sales team.
Develop and enforce sales policies and procedures that ensure compliance with regulations, laws, and industry best practices. Establish a system for monitoring and reporting sales performance, including key performance indicators (KPIs) and metrics that are regularly reviewed and analysed.
Provide ongoing training and support to the sales team.
Use data and analytics to gain insights into customer behaviour and preferences.
Collaborate with other departments, such as marketing and customer service, to ensure a seamless customer experience.
Continuously review and optimise sales processes and strategies to adapt to changing market conditions and customer needs.
Lead generation, demand generation & ABM
Sales enablement and sales operations should understand the fundamentals of lead generation, demand generation, and account-based marketing (ABM) to drive sales success.
Lead generation is focused on inbound marketing, while demand generation is about driving leads from specific industries or markets that fit a product. ABM is a precisionbased demand generation approach focused on driving leads from specific accounts that perfectly fit a product.
Content is essential for demand gen success. In both lead gen and ABM approaches, content must be relevant and personalised to the target audience. The customer moves from awareness to consideration to decision, and then retention and advocacy in both approaches.
Content strategy must be informed by demand gen and ABM strategy, and sales enablement and sales operations should be part of the conversation.
Marketing and sales teams should collaborate to determine which channels to use for content outreach.
A wide range of marketing channels can be used, such as email marketing, search, organic and paid social media, SMS, events, and more.
Sales teams can also distribute content through one-on-one emails, social messages, SMS messages, website live chat interactions, calls, face-to-face interactions, and videos.
Lead routing, engagement, coverage & conversion
Lead routing, engagement, coverage, and conversion are critical components of the sales operations process and have a significant impact on the success of a business's sales efforts.
Lead routing: directs leads to the appropriate sales rep based on specific criteria using automated lead routing software. This ensures leads are handled quickly and efficiently, improving the chances of conversion.
Engagement: involves identifying the best engagement channels and creating messaging that resonates with potential customers. Effective engagement requires a deep understanding of the target audience and personalised messaging at the right time.
Coverage: includes identifying the right number of sales reps and determining which sales channels are most effective for engaging with potential customers.
Optimising sales coverage ensures that no leads are left behind and that the sales team can handle the volume of leads generated.
Conversion: is the process of turning leads into paying customers, requiring engaging messaging, personalised outreach, and a deep understanding of the customer's needs. An optimised sales process moves potential customers
through the sales funnel quickly and efficiently.
To ensure effective lead routing, engagement, coverage, and conversion, sales operations teams must understand the sales process and the target audience.
They must also have access to the right technology and tools to manage leads effectively and optimise the sales process.
Lead scoring assigns scores to leads based on their level of engagement and likelihood to convert, prioritising outreach efforts. Sales automation streamlines the sales process and increases efficiency, allowing sales teams to focus on engaging with potential customers and closing deals.
Data & Analytics
Data quality underpins effective sales enablement, and therefore data audits are necessary. This may include deleting low relevance contacts, reviewing and removing old data, and reviewing email reputation and performance.
Data governance enables us to address the common challenges faced with datasets and their root causes. It is essential to standardise the approach across systems, avoid duplicate field creation and mismatching, and use structured data field collection where possible.
Technology plays a key role in tackling duplicate data issues and achieving a single customer view.
Customer data platforms (CDPs) and specialist data consultancies can help in cleansing and connecting records, defining data taxonomy, and governance.
A martech tool can also be used for data cleansing, appending, and enrichment. It is essential to prioritise contact points and append firmographic data for B2B records to improve data collection ongoing.
Database Systems: Software programs that allow for the storage, organisation, and retrieval of data. They are commonly used in various industries, such as finance, healthcare, and retail, to manage large volumes of data.
Data Collection: The process of gathering information from various sources and storing it in a structured format for further analysis. There are different methods of data collection, such as surveys, interviews, observations, and experiments.
Data Cleaning: Also known as data cleansing, this is the process of identifying and correcting or removing errors, inconsistencies, and inaccuracies in collected data. This process is essential in ensuring the quality and reliability of the data. This involves tasks such as removing duplicates, correcting spelling errors, and identifying and handling missing data
Sales enablement metrics & measurability
In an ever-changing sales environment, sales enablement leaders and sales managers need to be able to read the signals that tell them what sort of results they can expect, sometimes months before they happen.
If accurate measurement isn't in place, businesses are potentially missing valuable opportunities for sales growth, not to mention lost revenue in terms of investing in inadequate sales enablement strategies.
It's important to work with the sales leadership team to define the metrics that are of highest value to them.
Revenue is important and, for most C-suite executives, it's the metric they care most about. That's because it's the top line of the company, the one metric that keeps the company in business.
This is not the only metric to focus on though Others can provide insight into sales enablement performance.
Length of sales cycle: Measuring the length of the sales cycle facilitates a better understanding of the cycle as a whole, and where there is friction in the sales process.
Key funnel conversion rates: Setting up in the CRM allows sales teams to track conversion rates from stage to stage, and to identify parts of the pipeline which could be improved.
Quota attainment: This is the percentage of sales closed by each sales rep in a specific time period. This can be measured weekly, monthly or quarterly. If quota attainment is on the rise, it means everyone is being empowered to do their job more effectively.
Marketing collateral performance: Monitoring the performance of marketing collateral enables sales teams to see if the resources are effective in training teams and delivering great customer experiences.
Adoption rate: If sales reps are skipping important steps of the sales process, they may not be providing customers with essential information, causing friction further down the line.
Sales closing ratio: The number of proposals generated against customer conversions. If the closing ratio is falling, it's time to review sales enablement strategies.
Employee net promoter score: The eNPS helps to give a sense of the overall satisfaction of a sales team. After all, if sales reps are happy and motivated to work, sales enablement strategies will be more effective.
Win/loss rate: The percentage of leads that become paying customers.
Onboarding time: How fast do employees complete onboarding? How can sales enablement speed up the transition? This saves time and money when managers need to oversee new employees on fewer occasions.
Deal size: One clear sign that a sales process is working is that the average amount of each closed sale starts to increase. Wins are wonderful, but by measuring the size of closed deals, the potential for higher-value opportunities can also be measured.
Sales forecast accuracy: Sales forecasting is the process of estimating future revenue. At its simplest, a sales forecast is a projected measure of how a market will respond to sales and marketing efforts.
Lead-to-opportunity conversion rate: This metric is the percentage of leads that are converting into opportunities. This metric provides a sign that sellers are getting better at delivering the right messages to the right people
Platforms, apps & ecosystems
The salestech tools a business needs will depend completely on business use cases, organisation size, industry, the size of team and profile users we have, and so much more. One core function of sales enablement and sales operations is selecting and implementing tech the right way.
Salestech and martech are intrinsically connected. It makes sense to have a truly holistic view of the tools available.
Key Sales Enablement technologies
Those five categories of salestech shown in the chart above can improve efficiency and effectiveness through every stage of the buyer journey, accelerating performance through a range of different scenarios and use cases.
Engagement tools help teams to deliver the right message, at the right time, to the right person.
Productivity & enablement tools allow salespeople to streamline, automate, and coordinate their activity. Freeing up time with these tools means more output, ultimately leading to closing more deals.
Sales intelligence tools put key information in the hands of salespeople, helping them to turn up to pitches better prepared, drive better engagement, and propose better solutions.
Pipeline and analytics tools help managers understand exactly what's happening across the sales process at all times.
People management tools such as learning management systems (LMS) ensure that the correct level of information and training gets to the right person, in a specific role, and at the right time.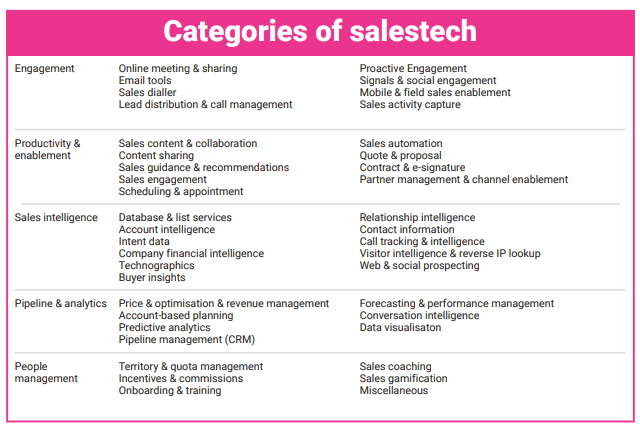 Sales Enablement Platforms (SEPs)
Much of the functionality of a pure sales enablement platform has been covered in previous tools, such as a repository for marketing content used by sales executives, or the ability to track prospect and customer engagement on sales and content pitches, or the collection and distribution of training resources.
Sales enablement platform solutions bundle multiple tools into a single all-in-one solution. The best of breed versus best of suite discussion is as old as the salestech and martech industries themselves, but it's important to make the distinction between sales enablement tools and sales enablement platforms.
Whatever the choice, all the tools should unite sales enablement functions and sales execution. It's important to ensure that all the fundamentals of great sales enablement are covered before relying on technological advances.
Selecting tech the right way
The tech selection process can be broken down into two parts:
Business case building & research.
Shopping.
For the business case, it's important to consider:
The business and sales goals that tech will be aligned to.
Is this a priority initiative? Is it a good use of budget and time?
How can the impact of the new tech be measured?
For example, the business goal may be to increase customer acquisition by 11%, and the sales enablement goal will be to increase the speed to lead by routing leads to reps based on their strengths and areas of specialisation.
After considering the business case, internal requirement gathering can be carried out to find out what outputs are needed from the proposed tech.
The next step is to research the market to understand the key providers that deliver the required solution, and the functionality and features they offer.
There are a number of sources to gain an understanding of the technology available:
Peer recommendation: Work colleagues and industry connections are a fantastic source to chat to on advice and feedback of their experience of platforms.
Buyer guides, awards, analyst reports & rankings: Buyer guides and analyst reports can provide a solid grounding in tech features and functionality.
Feedback engine sites: G2 Crowd, TrustRadius provide helpful reviews of technology from the customers that use it.
Agency partners: These are helpful for recommending key tech too, though it's important to ask if they are vendor agnostic.
Physical and virtual events: Events help to build knowledge and connections and gain some insight into the tools people are using.
Online sales enablement, salestech and martech forums: As well as vendor communities on Slack and Facebook.
After this thorough research, the next step is to create a request for information (RFI) short list of vendors to find out more about.
Shopping
It's important to assess vendors relative to use case fit, functional fit, and architecture fit. It's also important to look at areas such as product roadmap, training and support, and their partnership network.
With use cases documented, vendor scorecard defined, and RFI/RFP created it's time to start connecting with vendors.
Before chatting with vendors, it's important to:
Run a custom demo: Make sure vendors have business use cases and business background weeks before a demo so they can sufficiently prepare and tailor what they present.
Get into the nuts and bolts of needs and goals
Review vendor case studies: It's important to ask for customer case studies showing key results of their platform.
Assess direct and indirect vendor costs: Obtain costs from vendors for data hygiene and onboarding, custom integrations, consulting, training and any other area beyond the platform licensing itself. If the vendor doesn't cover all areas, ensure then it's important to forecast what additional investment is needed.
Get vendor customer references: Compliance due diligence and negotiating contract terms.
People & teams
A sales strategy alone isn't enough in today's complex business environment, nor is simply having great content, or the best sales technology
Bringing all these elements together is the work of a strong sales enablement function, including leadership and a skilled, knowledgeable, and motivated sales team.
A mature sales enablement organisation will be one with a clearly defined team structure, with roles and responsibilities in place.
They will have a clearly defined, comprehensive training and coaching program for all roles. The program will be standardised, so everyone gets the same training materials.
Sales Enablement leadership
Sales enablement roles and responsibilities will vary based on the size of an organisation, the sales and distribution model, and the markets served.
Ownership may sit with one person - a sales enablement manager - or it may sit with a team of salespeople who make up an enablement department within the greater sales organisation.
In smaller companies, sales enablement may be a part of the Sales Director's role. That person might juggle the sales enablement requirements alongside recruitment and their own sales targets.
Whatever the structure, the sales enablement leader must hold themselves accountable for delivering success in content strategy, platform capabilities, customer engagement, analytics and sales training.
Sales Enablement teams and responsibilities
Successful sales enablement is a team effort, involving several key job roles that work together. Depending on the size of the organisation, the structure of the team, its position alongside other functions, the positions within sales enablement and sales operations will vary.
Some may be more focused towards sales enablement, with others more aligned to sales operations. Some may be focused towards internal tasks, while some may be focused on external relationships.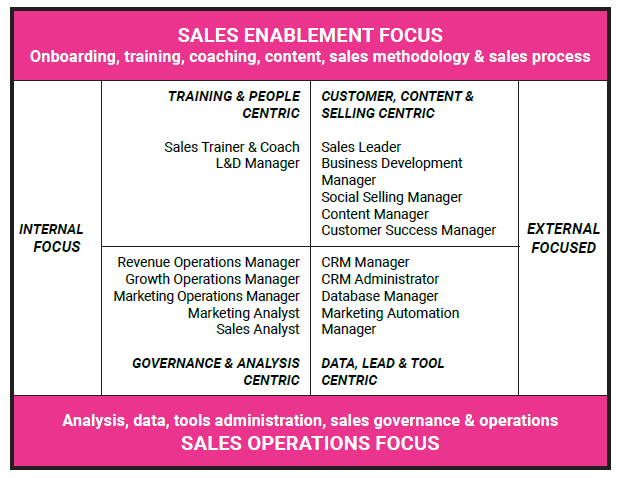 Within the overall structure some key job titles or responsibilities will include:
Sales Enablement Manager
Responsible for overseeing the overall sales enablement strategy and ensuring that the sales team has access to the necessary tools and resources. This role is critical in identifying and addressing gaps in the sales process and providing guidance to the sales team on how to improve their performance.
The sales enablement manager works closely with other departments such as marketing, product management, and sales operations to ensure that the sales team has the support they need.
Sales Operations Manager
Responsible for managing the sales process. This includes managing the sales pipeline, providing sales analytics and metrics, and identifying areas of improvement in the sales process. The sales operations manager works closely with the sales enablement manager
and the sales team to ensure that the sales process is optimised for success.
CRM Manager
Responsible for managing the organisation's customer relationship management (CRM) system - a critical tool to manage leads, track sales activities, and monitor sales performance.
The CRM manager works closely with the sales enablement manager and the sales operations manager to ensure that the CRM system is optimised for the sales team's needs.
Sales Trainer
Responsible for developing and delivering sales training programs. The training programs cover various topics such as product knowledge, sales techniques, and customer service.
The sales trainer works closely with the sales enablement manager and the sales operations team to identify the training needs of the sales team and to ensure that the training programs align with the overall sales enablement strategy.

Content Manager
Responsible for creating and managing the content that is used by the sales team during the sales process. This includes sales collateral, product sheets, case studies, and other materials that help the sales team engage with customers and close deals.
The content manager works closely with the marketing department to ensure that the content is aligned with the marketing strategy and brand guidelines.
Customer Success Manager
Responsible for ensuring that customers are satisfied with their purchase and that they continue to use the product or service. The customer success manager works closely with the sales team to ensure that customers have a positive experience and that their needs are being met.
Building a Sales Training Program
Salespeople need to be prepared to work with buyers who are more sophisticated and more informed than ever. They must show expertise of the product or service they're selling, as well as demonstrating knowledge of the wider industry.
Most important of all, they must have complete knowledge of customers, their profiles and personas, and their pain points.This, more than anything, will help them to create meaningful buyer engagements.
Business objectives and sales enablement goals should drive the strategy and detail of the training roadmap.
Many respondents in our State of Sales Enablement report were more focused on the customer and the seller, but it's also important to ensure that sales teams know products inside out, and are competent in using the tech tools they'll need on a day to day basis. (2)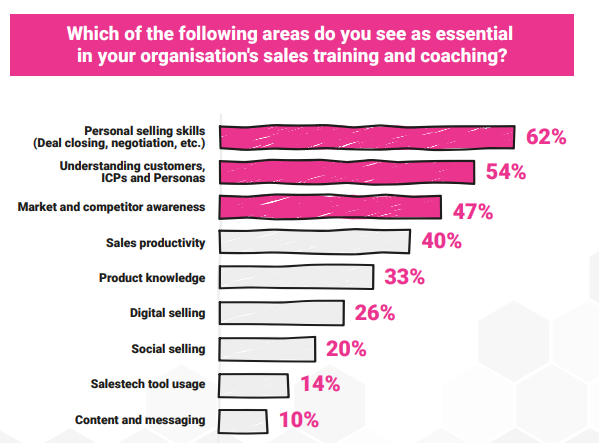 Some of the key components for creating or updating a sales training program should incorporate:
The customer: Sales Reps need to know who they are selling to, the ICPs and customer personas, the patterns of their typical behaviour, the journey they make before a purchase decision, and the most common sales objections. The most successful sales representatives empathise with what customers are feeling at every stage of the buyer journey.
The product: Sales reps should have no gaps in their product knowledge and be able to answer any question about it. This knowledge should be broad and firm enough to empower them and inspire confidence.
The Unique Selling Proposition (USP) should be emphasised during training, so that sales representatives can explain how they are differentiated from competitors.
The market: Sales team should be provided with facts and figures about the market and competitive situation - competitors, their pricing, the pros and cons of their product. B2B customers will come already armed with market analytics, so teams need to be able to respond.
Essential selling skills: Even for experienced sales reps, training presents an opportunity to refresh basic sales skills. These could include finding prospects, writing cold emails, giving sales demonstrations, closing deals, and onboarding clients.
To teach these skills most effectively, use role play or demonstrations. Include video examples. By catering towards multiple styles of learning, sales representatives will internalise what they've learned.
Content: Sales reps should become familiar with the complete content library. This will allow them to connect prospective customers with the right resources during the sales process.
The sales process: If a new recruit has previous sales experience, it's likely that they're using different sales processes. Make sure everyone leaves training with a comprehensive understanding of processes, including:
•Preferred methods of lead generation
• Methods for qualifying prospects
• Understanding of different stages of the sales funnel
• How to guide prospects through the sales process
• Creating a proposal
• Closing a deal
• Up-selling and cross-selling
• Delivering a great customer experience once the deal is signed
Technology training: Knowing how to use your CRM system is critical for modern sales representatives. Provide CRM training that is specific to your company's processes and highlights any customisations you've made to the software. Most people learn software best by doing, so provide trainees with multiple opportunities to use the software first-hand. Make sure full training is provided for all the technology used by the team.
A successful training program is not static. A practitioner needs to know if the training is working and how to refine it.

Recruitment & onboarding
Great recruitment and onboarding is another sign of sales enablement maturity. The way new sales reps are onboarded will improve the ROI of sales training.
Research shows companies with onboarding strategies have 10% greater sales growth rates, and 14% better sales and profit objective achievement.
There are a few reasons for this:
Savings on recruitment costs by identifying and hiring the right individuals at the
very start.
Onboarding new reps quickly and efficiently so they're able to start selling earlier.
Reducing the time it takes to get sales reps to full velocity.
Improved staff retention.
The first few months after a new rep is hired are the most critical to their retention, their performance, and their long-term success.
It's important to get the sales onboarding process right:
Start the onboarding process before day one: Part of an effective onboarding process is preparing new sales hires to hit the ground running on their first day. That won't mean their picking up the phone and selling on day one, but receiving their welcome pack and resources in advance of a start date gives them a head start.
Group new recruits together: This strategy can breed cooperation and competition. New reps will have the shared experience of the onboarding process, providing an opportunity for team camaraderie, unity, and growth.
Follow a formal onboarding process: Build a formal, milestone-based onboarding process and provide a clear picture of their sales ramp-up plan. It's a framework to give them everything they need to succeed within your sales organisation.
Establish expectations: Make sure reps understand exactly what success in your organisation means. Set expectations and goals early on, and enforce them on a regular basis.
Have new reps shadow senior colleagues: Include time for new recruits to shadow experienced reps. Allow them to see processes and systems in action.
Evaluate performance early: Know relatively quickly whether a new sales rep is meeting expectations. If they're not, intervene early and help them to improve.
Invest in continuous improvement: The most successful sales teams have a mindset of continuous improvement. Keep upgrading. Maintain the investment in them by providing more advanced training. It will increase the likelihood that they stay and grow with the business.
The Future of Sales Enablement & Operations
In an increasingly digital world, the ability to conduct business virtually is a necessity - across an organisation and individual functions. Sales enablement and operations is no exception.
Digital transformation has already had an impact across all the key pillars of sales enablement. In order to drive enablement across the whole ecosystem, many sales enablement and operations pioneers have already discovered the importance of delivering virtual enablement programs.
This goes far beyond a simple shift to an online environment. It demands an understanding of the common challenges that virtual conditions create and learning how best to resolve them. Effective virtual enablement can promote scalability, flexibility, and diversity within sales teams.
Key areas already in play include:
Virtual sales training sessions: Remote learning presents unique challenges, especially in maintaining engagement, interaction, and focus. Sales enablement practitioners are starting to incorporate a greater variety of teaching techniques to avoid fatigue among trainees. Gamification is one key area that's raising engagement levels within the sales training space.
Onboarding remote sales forces: With sales teams increasingly working across multiple sites or working remotely, sales enablement must ensure new sales reps are warmly welcomed to the remote teams. When teams are unable to meet in person, it is even more important to keep new hires engaged, excited, and prepared for success through remote onboarding. Virtual sales onboarding and training efforts require a fresh, creative mindset to be successful and memorable.
Remote sales coaching: Coaching for the purpose of continual improvement is at the heart of a strategic virtual enablement program. Maintaining a strong coaching program in virtual environments is critical to help sellers continually refine their skills and keep pace with change.
Digital tools and solutions: All sellers should be equipped with the tools necessary to self-learn, interact with their peers, and efficiently engage with their customers. Sales enablement leaders are building a complete digital toolkit that includes social networking, content distribution, and video acceleration.
Digital selling: As buyers are becoming increasingly more reliant on digital communication, mature virtual selling techniques are quickly becoming table stakes for success in the modern sales climate.
Sales teams need to develop expertise on how to sell in remote environments, and sales enablement is critical to driving these best practices among the teams they support. Hard skills should encompass proficiency in the tools and technology required to sell on digital channels, while soft skills should include mastery of advanced interpersonal techniques, as communication formats are drastically changing.
Tailored digital content: Sales teams are having more frequent online and digital engagements with customers. They need to be equipped with new and relevant content in order to maximise the efficiency of their engagements. Sales enablement should tailor this content to meet the unique and evolving needs of their sellers and customers.
In addition to these key areas, there are three significant tech trends that sales enablement professionals should track closely:
Digital experience: The primary experience will continue to evolve and accelerate as remote digital working, online learning, digital buyer engagements, and journeys continue to grow. This transformation will impact digital selling and sales enablement. It requires a focus on learning design to drive engagement and real learning, effective sales onboarding for remote teams, and stronger digital engagement, online communication, and selling techniques and skills.
Data-driven marketing: With an abundance of data on companies and personas, there is a rich opportunity to access, organise, and extract customer intent and insights. Sales enablement can leverage sales intelligence to shape prospecting strategies, personalise messaging, and enhance effectiveness.
Artificial Intelligence and machine learning: This isn't a new technology. The first AI program was written in 1951. However, the astronomical rate of advancement in capabilities and new use cases being formed tells us that AI will be a trend to stay.
Many powerful sales tech tools have AI solutions already under the bonnet performing sophisticated modelling well beyond human capabilities. AI is already available for sales enablement, with more powerful capabilities on the horizon.
Research carried out for our State of Sales Enablement report 2022/23 found that sales leaders were planning to invest in AI tools for meeting scheduling, forecasting and sales coaching.
AI and ML can enable sales teams to target prospects with hyper-personalise messaging, content, and channel mix at scale. It also allows sales teams to analyse large volumes of data to extract key insights to help understand customers and improve forecasting accuracy.
Moreover, through a machine learning loop, AI will only get smarter. AI is being democratised through cheap and readily available access to powerful algorithms. This points to a rapid advancement in adoption and capabilities, which will lead to new sales use cases, new digital selling techniques, and new digital buyer journeys.
While these three trends are crucial to sales enablement and sales operations, it's important to note that more trends will likely play out in the future.
As sales continues to evolve, LXA will develop more resources, courses, and events to ensure professionals can stay current on the latest sales trends and predictions. Check the platform for recent market research reports and upcoming events on sales enablement and sales operations.
By staying informed and adapting to these trends, sales enablement professionals can effectively navigate the ever-changing landscape of sales in the digital era.
Summary
Sales enablement and sales operations are key to provide sales teams with the skills, knowledge, and tools they need to succeed.
It's become a necessary function thanks to the increasingly complex modern B2B sales environment, where clued-up customers research and buy on their own terms, and at their own speed, and expect a better customer experience than ever before.
Sales enablement and sales operations is about arming sales teams with the tools they need to connect with these buyers, to increase their understanding of customers and the customer journey, to deliver content at the right time, and to be knowledgeable enough to sell to well-informed customers who have carried out their own research.
Providing sales teams with the support they need helps businesses to drive revenue growth, and also improves customer satisfaction and loyalty.
As LXA's five pillars model suggests, each component is vital for the overall success of the sales function. It takes that combination of the right people, detailed planning, the right technology, and process to support successful sales teams.
It's also about collaboration and co-operation across the business - a close relationship with marketing, buy-in from leadership teams, and an understanding of how sales enablement and sales operations benefits the business as a whole.
Citations
1 Source: Gartner, 'New B2B Buying Journey & its Implication for Sales', Gartner, 2020.
(https://www.gartner.co.uk/en/sales/insights/b2b-buying-journey)
2 Source: LXA, 'The State of Sales Enablement: Sales Operations & Salestech report
2022/23'. LXA, November 2022. (https://www.lxahub.com/state-of-sales-enablement-2022/23)