Social Media Management Best Practice Guide

Social media has come a long way since its first incarnation as forums and message boards.
As social media platforms have proliferated and as people of all ages created social profiles, marketers have had to think strategically about whether and how to be present on these channels.
This has led to the emergence of professional social media marketing specialists using the suite of marketing tools developed by the social media platforms for understanding and engaging audiences. Over the past decade, social media has become a key marketing channel. In fact, research by Hubspot found that respondents view social as the most important channel for both B2B and B2C marketing. (1)
"Marketers must stay abreast of unfolding functionalities and opportunities presented by new social networks to succeed. For example, in the last couple of years marketers have had to understand TikTok and think carefully about how they participate to drive meaningful engagement and brand reach.
"Misjudging the audience, tone and unique cultural context of each social network could be damaging to a brand. Equally, they need to keep an eye out for hype vs long-term opportunities. Some platforms may be "the next big thing" for just a few months. Think Clubhouse. But others may prove to be incredibly valuable to leverage, particularly for savvy marketers who command a first-mover advantage."
- Isabel Casey, Head of Marketing, LXA
The purpose of this guide is to examine the capabilities of social media management platforms. We'll address how these tools can support marketers and we will outline considerations for selecting a social media management platform that fits your requirements.


An introduction to Social Media Management Platforms
The proliferation of social media platforms, the number of profiles managed by brands, and the volume of content pushed through these platforms has led to marketers turning to social media management solutions.
This is because there is a requirement to be present and manage multiple social media profiles which create a resource allocation problem for marketers.
Social media management platforms allow marketers to manage multiple social media accounts across departments and devices. Social media management tools can also include analysing brand mentions, competitive analysis, market research and generally engaging with customers.
As social media platforms have evolved, so too has a plethora of third-party social media management platforms that empower marketers with centralised dashboards for managing social channels.
These platforms simplify the process for the social media professional. They can help social media marketers to centralise tasks such as:
Scheduling, publishing and distributing content to multiple social networks from the same place they manage campaigns
Analysing interactions with customers and prospects
Monitoring keywords and brand mentions and competitor activity
Measuring campaign impact across multiple channels
To put the scale of the opportunity into context, in Scott Brinker's most recent Marketing Technology Landscape, there are a total of 1,969 social and relationship tools listed (3). Within the analysis, there is also a specific section for social media marketing and monitoring solutions.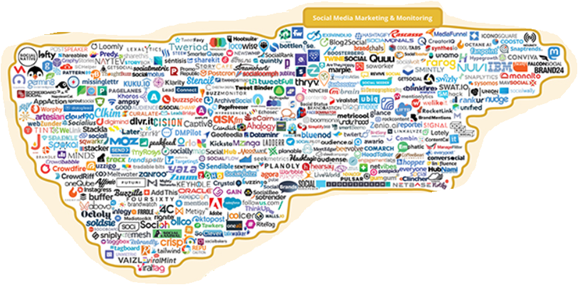 A range of social media management platforms exist. Some of these are standalone tools with specific use cases such as centralised publishing and keyword monitoring. Examples include HootSuite, Sprout Social and Sprinklr. Others exist as part of enterprise marketing platforms such as HubSpot.
In the enterprise, more advanced social media management tools can allow an organisation to build influence and presence, through monitoring online discussions for brand awareness and sentiment.


Why do I need a Social Media Management Platform?
Social media channels provide a place to monitor brand and competitor mentions. Marketers might also choose to develop a presence in the channels where customers are spending their time.
These requirements are reflected in marketing investments. 70% of marketers surveyed for our Martech Report 2022 have added social media management platforms to their marketing stacks in the last 12 months. (2)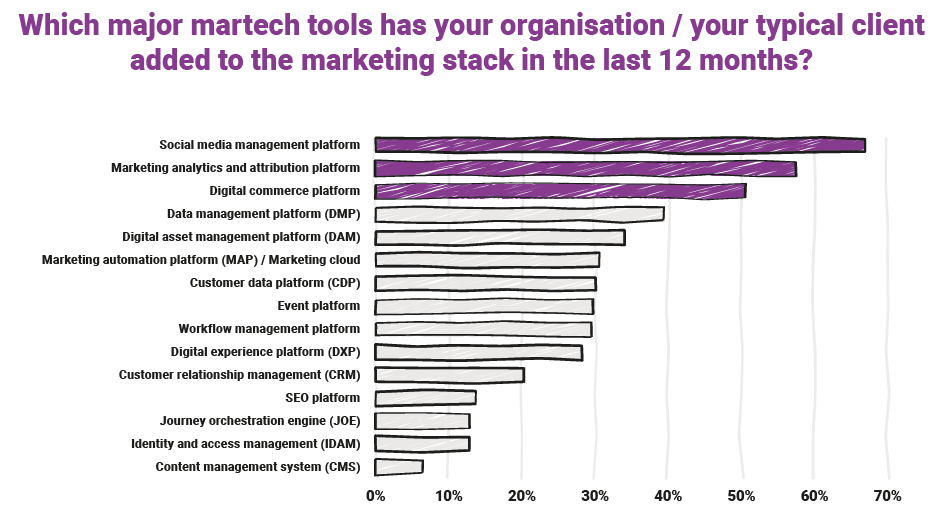 The business case is clear. If you're a marketer trying to monitor and manage multiple social media channels and accounts, then you need a social media management tool.
There is a broad spectrum of social media management tools. Marketers need to evaluate them based on the use cases they need to solve. At a minimum, social media management platforms should offer the following functionality.
Monitor and keep track of social engagement. Social media has made it easier for customers to reach out to brands, with nearly 40% of customers already using social media for customer service. Management platforms make responses quick, easy, and effective.

(4)

Schedule posts and messaging. Scheduling is one of the most important features of a management tool. Pre-scheduling gives managers the ability to compartmentalise tasks, so they can focus on more than just creating and publishing posts. Scheduling features also prevent a lapse in content over busy, or holiday, periods.
Track URLs. URL tracking allows managers to see how users actually behave once they reach the site, going beyond what reach and clicks can communicate.
Manage customer relationships. Customers require personalisation at every step. Social media management platforms can provide a tool that keeps information about customers that have been interacted with before, and can track conversation history. This way, a manager can personalise every experience.
Reporting and analytics. Social tools can provide data that can be used to determine marketing strategy moving forward, such as which social networks are providing the best results and which posts are the most effective.
Allow for social integration. Integration saves time on switching between tools. Presenting brand consistency throughout platforms can enhance profits by up to 23%

(5)

Improve team collaboration. The need for social media management collaboration has become vital, with the number of tools, solutions, and platforms increasing. So, a platform should allow users to designate every message or interaction to a team member who is suitable to respond.
Track brand sentiment.

Counting mentions doesn't always provide the full picture, but sentiment analysis helps you to see how positive or negative the general feeling is about your brand, or around certain campaigns or product launches. It can also help firms to identify areas to address, such as a spike in customer service-related complaints.



How do I choose a Social Media Management Platform?
With the amount of social media management platforms available on the market, it's important to outline your approach before jumping in. With functions ranging from scheduling, to analytics, to maintaining engagement, a social media manager must understand their aims and incentives before making a purchase.
It's important to adopt a methodical approach to any Martech tech selection and implementations. We would recommend you to follow this sequence:
Internal requirement gathering & RFI
Project steering committee established
Business use cases – User/business focussed
Platform use cases – Features/functionality focussed
Vendor scorecard
RFP
Vendor selection – (Too often companies jump straight into their selection and it all goes wrong. Often, they don't spend enough time and money on what follows either)
Proof of concept
Implementation & configuration
Stack integration
Training & onboarding
Support & upgrade
Vendor management
Audit & review


Create a vendor scorecard
Creating a vendor scorecard to evaluate each vendor is the next step. That way you can take a systematic approach to evaluate products. Creating a scorecard involves being clear on your use cases so that you can evaluate whether there is the functional fit between your requirements and the vendor product.
You might also need to evaluate architectural fit to understand what technical support is required to manage integration with existing tools. Beyond business use cases and technical architecture, you also need to assess what kind of training and support the vendor will provide.
We've created this basic scorecard with suggested weightings to get you started. It doesn't cover everything but our Essentials of Marketing Technology contains a comprehensive guide to support your vendor selection process.
Course participants will also receive a much more detailed worksheet to help you evaluate vendors.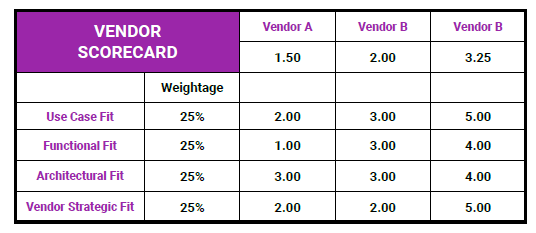 With your use cases documented, vendor scorecard defined, and RFI/RFP created, it's time to start connecting with vendors.
Creating a short list based on your company profile and preference is a good starting point; events tech capabilities and ratings, focus, functional specialism, industry and company size match.
As you progress to chatting with vendors, we would recommend you:
Take your time & prepare. Don't rush the process. Make sure you have done your research to better understand the space. Ensure you have details of your needs available and your vendor scorecard and questions.
Run a custom demo. Make sure vendors have your business use cases and business background weeks before your demo so they can sufficiently prepare and tailor what they present so you can make a fair assessment.
Get into the details of your expectations around the technology. Get into the nuts and bolts of your needs/goals to really assess the ease, speed and cost of tech.
Review vendor case studies. Ask for customer case studies showing key results of their platform.
Get vendor customer references. and ideally direct access to chat with some of their clients.


Questions to ask before shopping for a social management platform
It helps to ask the following questions to assess your needs, and the problems you want your chosen platform to address:
What are the specific pain points in your organisation around social media? Maybe coordination across departments is an issue, the time it takes to login and manage social channels, or the restrictions of social platforms' analytics features.
How many social accounts and channels do you manage? Do you have social channels in different markets, or perhaps for different functions (customer services, marketing etc)?
Which platforms are key to social media marketing? Think about the social platforms you have a presence on, as well as those you may consider using. Social management tools often specialise in a smaller number of networks, so this may help you to narrow your search.
How many team members will require access to the tool? Pricing structures are often built around numbers of users, so think about this before you choose.
What benefits do you expect from a social management tool? Think about specific outputs, such as efficiency savings, improved response times, the ability to monitor brand mentions, and so on. Identifying goals will help you to eliminate the tools that don't meet your needs.
What is your budget? Most tools require a quarterly or yearly contract, which is why it is important to think about how it will fit into your marketing budget.
Who is involved in the buying decision? Identify key stakeholders and bring them into the process.

Is the platform easy to use?

Social media management tools will be used constantly so user experience matters, as this can have a significant impact on user workflows. Tools should be intuitive to use, so you can complete your daily tasks faster and troubleshoot any issues that arise without external assistance. Think about this when trialling or demoing new tools.

Does the platform allow for easy onboarding?

Assess how long it will take to connect your existing social channels and train your social teams to use a platform. This should minimise the amount of downtime, and training required.

Does the tool allow for different user levels?

Governance is vital, with a variety of roles and responsibilities using social media management tools. Does the tool allow you to set access and permission levels within the team? With a clear division of roles and permissions, you can ensure that nothing is posted until approved by the relevant people.

Is customer support available?

24/7 customer support or resources helping you to learn the tools or troubleshoot issues can be vital.

Does the social management tool integrate into existing systems?

Having a social tool with open APIs allows you monitor the role social plays in your customer journey and use social media data to inform overall marketing strategy.

Can you add template responses?

Customers expect fast replies on social platforms, but this is not always possible at all times of the day. The ability to create and upload response templates to your tool allows you to respond quickly and answer common questions.


Getting the most from your Social Media Management Platform
Researching and onboarding a social media management platform is only the start of the process. The functions you need from your platform will change and evolve along with your business, and your customers.
Whether you've invested in a tool because you want to begin the process of digital transformation, or whether you're looking to refine and refresh your social reach, the journey will need to be flexible and scalable.

To get the most of your platform, you'll need to add the following steps to the process:
Organise and run a regular review of your platform's elements at least quarterly.

This way, you'll see whether it is still meeting the goals you've set in place, and see where the potential lies for it to make an even bigger contribution to the business.

Analyse and inspect any potential areas of wastage.

This means exploring areas that could be automated, or whether there are any overlapping tools or workflows in the platform that could be streamlined.

Consider staff training needs

. Does your marketing team have the skills and knowledge required to make best use of social media management tools?

Keep communication clear and regular with your vendor.

Vendors are ideally placed to demonstrate the full capabilities of their solution. They'll be highly knowledgeable on how to make the most of their suite of solutions.


Summary
With customers choosing social media as a means of interaction with brands, a source of information, and as a customer service channel, a presence of social media is essential for any company.
Social media management tools are vital for managing social interactions across multiple networks and profiles. They allow for more efficient posting of content, management of interactions, and provide the ability to learn and improve social media marketing.
Finding the right solution for your business isn't a quick and easy process. So, it is vital to understand the range of platforms, features, and tools available, and to be methodical in your research and selection process.


Citations
1 Source: Clifford Chi, 'Which Marketing Channels Will Brands Prioritize in 2022?', Hubspot, 2021. (https://blog.hubspot.com/marketing/marketing-channels)
2 Source: Martech Alliance, 'The Martech Report 2020/2021', Martech Alliance in association with Moore Kingston Smith, October, 2021. (https://www.martechalliance.com/martechreport)
3 Source: Scott Brinker, 'Marketing Technology Landscape Supergraphic (2020)', chiefmartec.com, June 5, 2020. (https://chiefmartec.com/2020/04/marketing-technology-landscape-2020-martech-5000/)
4 Source: Zendesk,'Social customer service report' Zendesk,2021. (https://www.zendesk.com/blog/social-customer-service/)
5 Source: Gabriel Shaoolian, '10 Marketing, Web Design & Branding Statistics', Forbes, August 10, 2018. (https://www.forbes.com/sites/gabrielshaoolian/2018/08/10/10-marketing-web-design-branding-statistics-to-help-you-prioritize-business-growth-initiatives/?sh=1a8e4baed708)