The Super Bowl. Isn't it great when the...let me look at my notes...halfbacks do a touch goal.
Okay, okay. So we all know we're not watching the Super Bowl for the sports. I'm not even that big a fan of baseball, or whatever. We're actually here for the adverts. From Bugs Bunny selling sneakers, to Darth Vader selling Volkswagens, the biggest brands come out in full force. That's a Star Wars pun for you there.
So, it's a huge opportunity for marketers to stick in the minds of consumers for the rest of the year. But what do the numbers look like? How much do marketers really earn back from their efforts? Do viewers even really care anymore? Well, you'll have to read on to find out.
Consumer behaviour and the Super Bowl
Social media and the Super Bowl
Advertising spend and the Super Bowl
| | | | |
| --- | --- | --- | --- |
| Year | Price for 30 sec. | Year | Price for 30 sec. |
| 1967 | $37,500 | 2016 | $4,500,000 |
| 1968 | $54,500 | 2017 | $5,000,000 |
| 1969 | $55,000 | 2018 | $5,200,000 |
| 1970 | $78,200 | 2019 | $5,300,000 |
| 1971 | $72,500 | 2020 | $5,500,000 |
| 1972 | $86,100 | 2021 | $5,600,000 |
Commercials and the Super Bowl
Audience and viewer numbers and the Super Bowl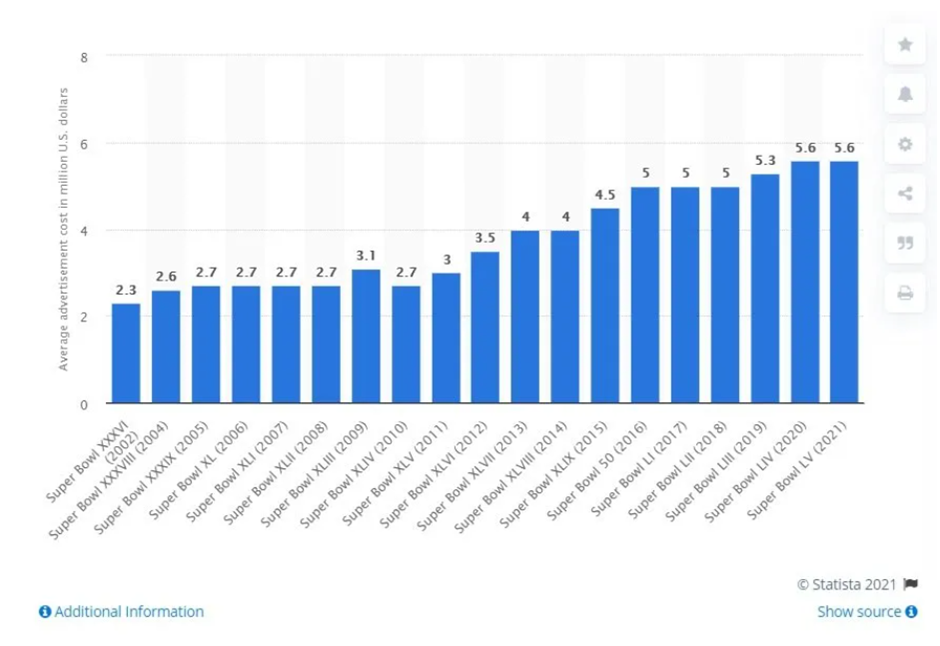 Consumer Purchases and the Super Bowl
This post is part of our Martech stats series, which compiles key data and trends. Others include: