Social media platforms, and the demands of their users, are continuously evolving, updating, and shifting.
So, marketers and marketing technologists need to be constantly aware of the changes in order to remain on the feeds, 'for you' pages and discover pages of their customers.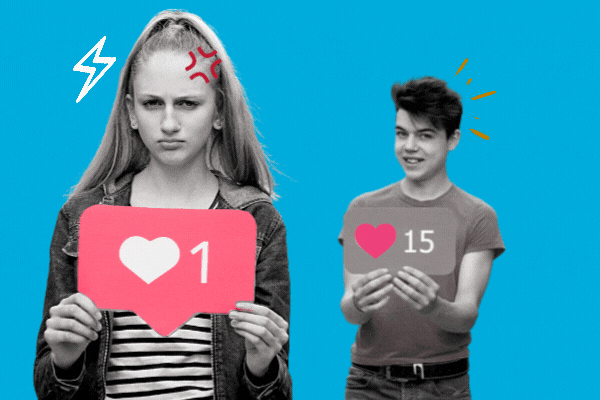 As of January 2022, there are 3.96 billion total social media users across all platforms. And with those nearly 4B people bouncing across 6 social platforms on average, you've got to keep your finger on the algorithmic pulse.
Remember, it's not 2008 anymore. You can't just post a picture of a dog wanting to eat a stack of pancakes and go instantly viral. Those were the days. I wonder if that cat ever got its Cheezburger. 🤔
Though we're not actually looking into its algorithm today, we're going to be mentioning it a lot. It's a gen-z favourite. It's short, it's edgy. No, it's not Lady Gaga. It's TikTok.
TikTok's influence is being felt within a bunch of social media platforms' updates. And it's because of this: TikTok is the fastest-growing social network with a staggering 105% user growth rate in the US over the past two years.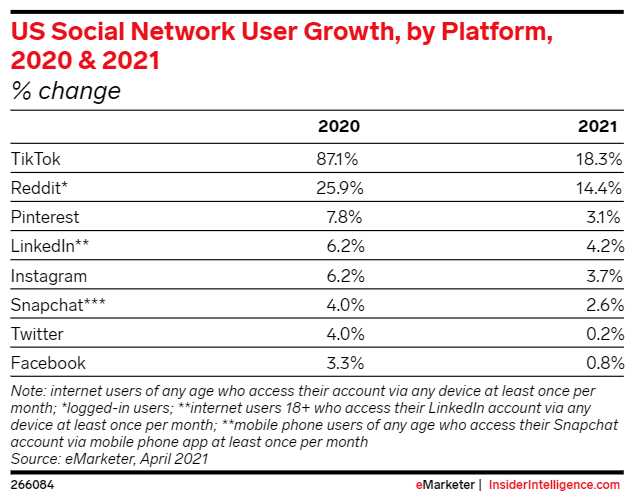 So, other social media platforms are rushing to uncover and utilise the secret power of the short-form video site. That's what has led to the recent changes in Instagram's algorithm, and the more recent announcement of Facebook's algorithm update.
In fact, in an internal memo obtained by The Verge, the Meta exec in charge of Facebook Tom Alison revealed that Facebook's main feed will start heavily recommending posts regardless of where they come from. Just like TikTok. Plus, instead of continuing to remain two separate apps, Messenger and Facebook will join back up, mimicking TikTok's messaging functionality.
Basically, employees have been told to make the app's feed work and look like TikTok's. Combined with an increasing emphasis on Reels, the planned changes show that the company increasingly sees TikTok as a threat.
Instagram has already shifted to look more like TikTok with its focus on Reels, so execs at Facebook seem to hope that a similar treatment will reverse the platform's stagnant growth, and lack of the new generation.
Alison put it bluntly to employees in a comment underneath his April memo: "The risk for us is that we dismiss this as being not valuable to people as a form of social communication and connection and we fail to evolve." So along comes a new algorithm.
Only time will tell whether moving away from the distinct differences that keep people on their platforms will be beneficial, for the potential to gain a new audience who has already found its home on a platform and remains untrusting of Meta's business practices.
Algorithm and Update Controversy
Recently Instagram has faced a backlash for its shifting of priorities. When the social network made a series of changes attempting to copy rival TikTok, it was criticised by users and creators alike.
These changes feature an algorithmically focused main feed and a focus on the TikTok-inspired "reels" videos. It also pushes the TikTok-style remix feature, which has led to users having trouble finding content from friends and family, the original appeal behind the app.
"We're hearing a lot of concerns from all of you," Adam Mosseri said in a video posted to Twitter.
"I'm hearing a lot of concerns about photos, and how we're shifting to video. We're going to continue to support photos, but I need to be honest: more and more of Instagram is going to become video over time. We're going to have to lean into that shift while continuing to support photos."
The changes to the Instagram algorithm and platform have been in response to the continued growth of TikTok, which finds its base in younger American users. In the UK, Instagram remains the third most-visited social network, but globally TikTok has the most downloads than any other app.
Unsurprisingly, the Kardashian can got involved. Kylie Jenner posted a widely shared story on Instagram, calling on the service to "make Instagram Instagram again", asking for the return to friend-focused content.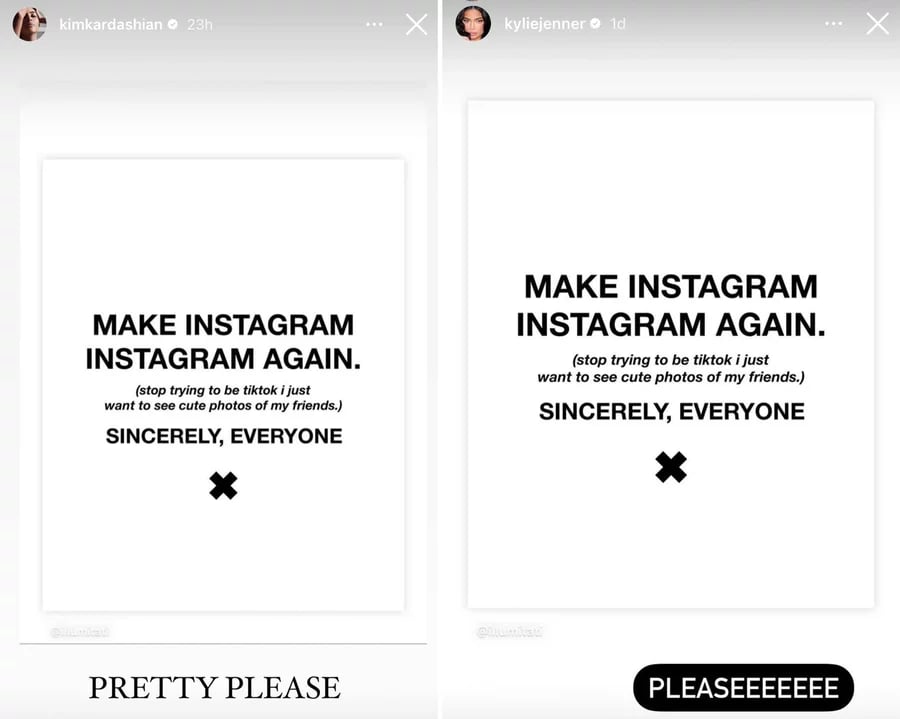 The influence of this family on social platforms can't be understated. In 2018 a single tweet from Kylie asking "does anyone else not open Snapchat anymore" wiped $1.3bn from the market cap of the social network. This suggested that the new redesign the company had rolled out hadn't worked, forcing the company to reverse the changes only a few weeks later.
Facebook is also attempting a similar re-birth. Recently, Mark Zuckerberg announced a revival of the "chronological feed" in the main Facebook app, alongside a newly algorithmic "home" tab, in an attempt to copy TikTok's popular "For You" page.
"Our discovery engine will recommend the content we think you'll care most about," Zuckerberg said in a post announcing the change.
But these changes often have the feeling of a middle-aged dad wearing a Billie Eilish t-shirt to keep up with the kids. It might be identifying the elements of TikTok which work, but directly picking them up and sticking them onto Facebook, and onto Facebook's audience, isn't a guaranteed success.
"TikTok's got one fundamental thing that Facebook doesn't have," said Matt Navarra, a social media consultant and analyst.
"TikTok is cool. And it's very hard to recreate cool."
Update: Facebook Algorithm August Controversy
Facebook users reported issues with their homepage this August, with these problems being highlighted by other social media platforms like Twitter.
DownDetector, a website where users can log outages and issues with platforms, started receiving reports of the glitch on 24/08/2022 at 6 am. The site saw more than 2,500 reports of a "weird issue".
This issue meant users' feeds were spammed with other, unrelated users' posts from celebrity pages. Reports state that if someone posted to a celebrity's page, then everyone else following that individual would see the post come up in their newsfeed.
Usually, these posts to popular pages are filtered out by an algorithm.
A spokesperson for Meta said: "We're aware that some people are having trouble with their Facebook feed.
"We're working to get things back to normal as quickly as possible and we apologise for any inconvenience."
People have been trying to make the glitch work for them, even attempting to publicise their own interests or projects. These posts have included requests for jobs, promotion of social channels and business adverts.
How does the Facebook algorithm work?
First, Facebook takes every post and scores it on predetermined ranking signals.
Secondly, it discards posts a user is unlikely to interact with.
Thirdly, it runs a "more powerful neural network" over the remaining posts, to score them in a personalised way.
Fourthly, it arranges a good mix of media types and sources so a user has a variety of content to look through.
How does the Instagram algorithm work?
According to The Gram, there are six factors that influence the algorithm:
Interest
Relationship
Timeliness
Frequency
Following
Usage
So, what differences are we seeing with both the new Instagram and Facebook algorithms?
Prioritising Short Videos
As we've mentioned, both platforms are beginning to walk down the TikTok path.
Let's start with Instagram.
Instagram has known for a while that Reels have been the preferred media type by users. So, it's not surprising that the platform will support the media format that is generating the highest engagement on their platform, as well as keeping users on the longest.
This means the algorithm has been shaped to favour reels, especially small business accounts that post reels, providing these creators with a lot of reach. This reach would never have been achieved by just posting regular images or videos.
But this feature isn't new, and you're here for a 2022 update. So, the algorithm is starting to take into account how reels are doing, in terms of three metrics:
Views

Watch time

AVD or Average View Duration.
Views are the total number of views a Reel receives. This metric is displayed publicly next to the play button.
Watch time is the amount of time someone spends watching a Reel.
AVD is the total watch time on a reel, divided by the total number of video plays. This metric is vital, as looking at the other two alone can't show you if your reels are really successful or not.
So, it becomes increasingly important in this new update to focus on boosting your AVD. You might have a 99.9% watch time, but with only 2 views, it's not so impressive. Or, if you have 100K views, but people are only watching for 3 seconds, then that's not great either. Then, how do you boost your AVD?
Number one.

Draw people in with your intro. This will guarantee people stay on the video, rather than scrolling straight past.



Number two.

Make your videos shorter. You don't have to make your videos as long as the time limit. Instead, focus on the quality of the content, not the length.



Number Three.

Beyond views, you want to aim to get loops. The AVD includes replays, after all. This can be done by getting people to read your caption. If you make your caption lengthy, the video will be looping in the background, and your numbers will go up. Sneaky.
Right, what's Facebook's approach?
In an effort to compete with TikTok, Facebook is implementing a new "discovery engine" feed change that will prioritise recommended posts over content from accounts that users follow, according to an internal memo from April shared via The Verge.
So, the platform's app will work differently from now on. The main tab will become a mix of Stories and Reels at the top, followed by posts recommended by its discovery engine. This will make for a more video-focused experience, with clearer prompts to direct message friends.
Instagram is currently ahead of Facebook in pushing reels from accounts users don't know, from "unconnected" sources. Currently, 11% of the content in Facebook's main feed is unconnected, and those posts have mostly surfaced through reshares, not the company's AI.
Pushing Personal Connection
In the last major overhaul of Facebook's algorithm, in 2018, Mark Zuckerberg said the social media platform would prioritise "meaningful social interactions" between friends and families. But in this race for engagement, the platform has grown crowded with brands trying to gamify its algorithm.
Along with this, the News Feed was not the way users wanted to communicate with each other, no matter the changes Facebook made. "Stories is really the way that more people are sharing with their friends," says Alison.
"What we're really finding is that people want to connect over content," he says. "And so a lot of where we're going with Facebook is trying to bring you the best content that's going to really cater to your interests, but then making it super easy to share that and discuss and connect with other people in your network over that."
This has led to Alison and his team encouraging his product teams to nudge users into messaging others about the reels they see, and catch their attention, inside Facebook itself, rather than letting posts lead to conversations on other apps.
Continued Heavy Reliance on AI
This might be surprising, considering how much criticism Facebook has gotten for its AI in the past. But the company is beginning to lean even more on its controversial AI.
Inside Facebook, Alison's teams are tinkering on a project called "Mr T", which allows users to access a chronological version of their connected Feed, sorted by groups, pages, and friends they follow. Even still, the discovery engine push will be likely to put more pressure on the decisions Meta makes to push certain posts over others.
Employees who have spoken to the press suggest that the company's biggest trust and safety issues already come from the recommendations its system makes in areas like Instagram Explore and Facebook Watch.
"For a while, we really leaned into it because it got people to follow more stuff that was new to them, and that really boosted sessions and time spent," one current employee told The Verge.
"But it also amplified the Russian IRA and other bad actors and increased the velocity of misinformation spread."
However, with this new update, Meta has developed stricter rules for what its AI recommends versus what it allows people to see from their friends. So, a friend could post something with a banned theme, such as swearing or discussing suicide and have it seen by someone they are connected with. But Meta's AI will not, or should not, recommend that content to strangers. However, violating content often still slips through, unintentionally.
Push For Original Content
This could be an issue for social media managers and content creators on Instagram for a bit.
Instagram chief Adam Mosseri has announced recently that the platform is making an update to how its algorithm ranks content, in order to place more emphasis on original work.
"We've added new ways to tag and improved ranking: - Product Tags - Enhanced Tags - Ranking for originality"," he said in a tweet
"Creators are so important to the future of Instagram, and we want to make sure that they are successful and get all the credit they deserve."
"If you create something from scratch, you should get more credit than if you are resharing something that you found from someone else. [As such] we're going to do more to try and value original content more, particularly compared to reposted content."
He went on to explain a few features that will play a big role in the newest update:
Content edited outside of Instagram and then uploaded to the app won't be penalised. The idea is if you made it, it's original. It's okay if you edited it outside of Instagram and then bring it in via the gallery."

This is a change from last year when the platform said that content which was reshared from other apps, with viable watermarks, would be downranked. Content with visible logos or watermarks will still be penalised in Reels, but outside of that, the change is not designed to stop users from sharing content edited on outside platforms.



Previous posting history will have an influence. In the new algorithm, the content aggregators will be the focus, and Instagram will be able to look at an account's posting history in order to determine this. "If the account is an aggregator, we'll more likely be able to detect that it's not original," reports Mosseri.

So if you're re-posting a lot of stuff from other accounts, you'll likely see a decline in reach.



The original content ranking is still a work in progress. Mosseri states the company can't be 100% sure whether the content is a work in progress, saying:

"we build classifiers to predict how *likely* something is to be original, but that's not knowing. We look at things like who's in the video, and if we've seen the video before.

"



"If it's someone pretending to be the original creator, which is less likely but could happen, it'll be hard for us to know."

Focus on User Preferences and Engagement
In order to compete with TikTok, as we've said, Meta has realised it needs to replicate the experience of TikTok's main "For You" page.
Considering the news feed pioneered the social feed which learns based on user cues, such as friending someone, or liking a page, it's not a surprise Facebook is taking the next step. TikTok's "For You" is a bit of a successor to this, adding more advanced techniques, such as guessing user preference based on passive viewing habits. This leads to a never-ending stream of short videos on users' phones.
Instagram's new algorithm will be searching for something similar. According to Mosseri, the algorithm's ability to detect preferred content is a complex process. "We add and remove signals and predictions over time, working to get better at surfacing what you're interested in," he said.
These signals include:
Information about the post: Is it a photo or a video? When was it posted? How many likes does it have?

Information about the poster: How interesting are they to you? Are they your friend? How often do people engage with their content?

Your activity: Do you tend to watch a lot of videos? What type of content do you typically engage with?

Your interaction history: Do you typically like or comment on the poster's posts?
This means the algorithm will monitor every interaction you make on the app, from the posts you like, to who you interact with, taking those passive cues and forming a highly engaging experience for the user.
Despite gloom and doom, Facebook remains the most-used platform by marketers worldwide (93%). Instagram sits in second place (78%). So, what the new algorithm changes will mean for the platform and its user base remains to be seen.
But marketers must keep up to date on any changes to the algorithm these platforms make on a whim. After all, Facebook is responsible for a quarter of all digital ad spending (25%) versus Google (28.9%), Amazon (10.3%) and others (35.6%) in 2020 alone.
On top of this, 44% of users shop for products on Instagram weekly (and 28% of those shopping activities are pre-planned). So, whilst alternatives are available, such as 'dark social private communities', such as Discord, the giants reign supreme. For now.