TVR Sagaris buying guide
It was the last TVR, and arguably the best car the company ever made. Still highly sought-after, it's a safe place to put your money, but what should you look out for when buying one?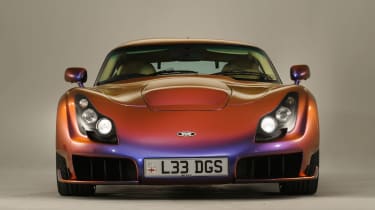 Had fighting talk not turned out to be so much hot air, you'd be able to buy a brand new TVR Sagaris 2 today. As it was, the Sagaris never got beyond a mark one version and two short years of production. The most outlandish of TVR's late cars, the Sagaris was the first new TVR to be launched under the company's ownership by elusive Russian oligarch Nikolai Smolensky. And then, in 2007, the company ground to a halt.
A year later, the cash-strapped fragments of TVR were partly bought back by Smolensky and new plans were made to restart production. That's when the mildly facelifted Sagaris 2 appeared, but in truth no industry pundit believed the rebirth would actually happen. It didn't, of course; and now the Sagaris stands as a monument to all that was good, bad and mad about TVR and its turbulent history.
Actually, there's little bad about the Sagaris. To own one of the few cars made – production was in the low hundreds – is to own possibly the most bombastic pleasure machine you can buy for the money. When new in 2005 it cost £49,995, or less than a third of the cost of a new Aston Martin Vanquish – a car it would leave far behind on any challenging road. Five years on, they're still worth at least £35,000, which is an impressive residual-value performance for a car made by a company now defunct.
Under the Sagaris's extraordinary skin are, broadly, the structure and mechanicals of a Tamora or T350, including TVR's own 4-litre straight-six engine, here uprated to 400 precisely metered bhp. A low-slung racing version of the T350 sowed the Sagaris seed, which is why the Sagaris really does look like a racing car for the road. You can even see the depressions in the tops of the front wings where a race car would have air vents to relieve front-end lift, but to open the holes on a road car is to find your windscreen in the firing line of all sorts of road debris.
Then there's the front splitter lurking just above the road surface (beware of kerbs and speed bumps), the transparent rear spoiler supported on machined-aluminium posts, the bulge in the roof to clear a crash helmet… and a mad pair of tailpipes each exiting directly sideways so pedestrians get the maximum aural benefit.
What they hear is a rumble somewhere between Jaguar D-type and racing biplane, morphing to a crackling howl as the revs rocket. The Sagaris scorches to 60mph in well under four seconds, sears past 180mph, and steers with an ultra-quick, meaty precision far removed from the other-worldly lightness that could make earlier TVRs scary. Your mind is in a state of heightened awareness within 100 yards, such is the intensity of sound and feeling, and it's fabulous fun. Reliable fun, too, reckon the specialists.
The Sagaris was the last TVR. It's also the best. What a way to go.
'I bought one'
LEE SINDEN - 'I've had it for 11 months, the latest in a long line of TVRs – two "wedges", a Chimaera and a Tamora. This one has behaved very well. All that's happened is that the fuel pump went the day after I bought it, a half-hour job which I did myself.
'Apparently, when it was three months old it had to go back to the factory for a full repaint, because it was bubbling all over. When it came back it went straight to the second owner who kept it on a building site. It looked like it had been washed with a scouring pad. It took countless hours to get it as it is now.
'I've done 3000 of its 18,000 miles. It's a weekend toy, and I've done a couple of trackdays. I saw 156mph on a charity day at Bruntingthorpe and it was still accelerating.
'Why did I buy it? I love the raucousness of a TVR, and I thought why not? You never know what's around the corner. I tried a Ferrari 360 Spider, and it was boring by comparison.'